Driving and Road Safety Information > Driving Safely in New Zealand
Driving Safely in New Zealand

This information has been kindly supplied by the Land Transport Safety Authority. For more information, please visit the LTSA's website.

The following information will help make your stay a safer and more enjoyable one. Remember to always wear your seatbelt, keep your speed down and keep to the left hand side of the road.

Observe these important rules when driving and enjoy a safe journey.

< Back to Driving and Road Safety Main Page
---
Drive on the left side of the road.
Maximum open road speed is 100km/h.
Limited Speed Zone - 50km/h in adverse conditions, otherwise 100km/h.
Maximum speed limit for urban areas is 50km/h.
Slow down, be ready to stop and give way "yield" to all traffic.
Stop completely then give way "yield" to all traffic.
On a motorway you must not:

walk or cycle
stop your vehicle
make a U-turn

Keep to the left hand lane unless passing and always indicate at least 3 seconds before changing lanes.
You must stop. (American and Canadian visitors - you cannot turn left when the stop light at an intersection is red).
Stop unless you are so close to the lights that you cannot stop safely.
Go but give way "yield" when turning.
Here you may not turn right. You may go straight through, or turn left if it is safe.
Here, you may turn left - all other traffic must stop.
Always use your indicators.

Always obey the traffic lights, signs and arrows marked on the roads.

If turning give way "yield" to all traffic not turning.


Wind Gusts
Roundabouts
Curve
Seal Ends
Railway Crossing
Road Narrows
Farm Animals
Winding Roads
School Bus
Sudden Dip
Slips
Roadworks
Slippery Surface
Lane Closed
Hazards
Detour
No parking beside a yellow line or within 6 metres of an intersection.


No stopping
No parking
Red on white signs apply at all times.

White on blue signs apply Monday to Saturday 8am to 6pm.
No overtaking on yellow lines.

Don't overtake:

near a pedestrian crossing, railway crossing or intersection.
where you cannot see 100 metres in front of you.
DON'T DRINK AND DRIVE.

The legal limt is:

30mg alcohol per 100ml blood for drivers under 20 years.
80mg alcohol per 100ml blood for fully licensed drivers 20 years and over.
No insurance cover if above legal limit.
It is law for all vehicle occupants to wear their seatbelt or child restraints.
If you crash, contact the Police.

Obtain the driver's name, address and registration numbers of all vehicles involved.

If you injure an animal you must tell the owner of the animal or contact the Police or SPCA at once.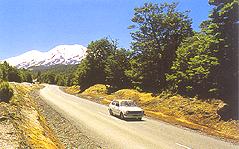 In New Zealand most roads are two-lane and often narrow. Some are unsealed and have no surface markings; some also change from sealed to unsealed - look out for signs which indicate this. If you can, plan your journey to avoid unsealed roads.

Unsealed roads can be dangerous and affect your control of the vehicle. They are often narrow and have gravel verges. Reduce your speed to 40-50kph or slower. Drive in established tracks where the surface is harder if possible but keep left. When approaching an oncoming vehicle slow down to pass. Road dust could obscure your view of the road ahead.

Should your vehicle slide on shingle, DO NOT BRAKE SUDDENLY.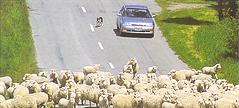 New Zealand is an agricultural country with many farm animals. You may meet sheep or cows being moved by a farmer. Slow down and stop when you reach the animals - let them go past you, or move slowly up behind, and take instructions from the farmer.
Should you injure a farm animal on a road tell the nearest farmer.

Whenever you park your vehicle LOCK all doors, boot and windows. Take valuables with you or remove from sight. Remember, lock it or lose it!