Listings for: Dunedin > Activities and Attractions > Historic Places/Homes
Olveston Historic Home
DUNEDIN'S HISTORIC HOME: VISIT YESTERDAY TODAY
Spend a magical hour absorbing the atmosphere in t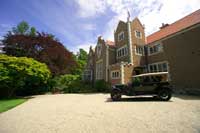 he Theomin family's historic home, Olveston.
Be transported to an era of fine living, grace and style. Gain an insight into the daily running of an early 20th-century household of quality.
From garden to great hall, the Olveston collection is a visual, historic and aesthetic delight.
Olveston welcomes you 7 days a week, except Christmas Day.
Reservations are required for one-hour guided tours which commence at 9.30am and 10.45am, 12 noon, 1.30pm, 2.45pm and 4.00pm daily (except Christmas Day).
Olveston is an eloquent expression of one man's dream. A tour of Olveston allows an intimate glimpse of the lifestyle of a privileged family in the early 1900's. It reflects a lifestyle enjoyed by just a few, but represents a most important piece in the mosaic of early New Zealand life as a whole.
Visitors are very conscious of the family throughout the home, enjoying and experiencing the many treasures that were an integral part of the family's day-to-day life. Olveston captures this lifestyle completely. There is no more accurate or definitive example in New Zealand .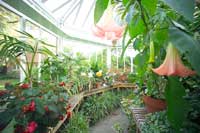 Olveston was designed for David Theomin by London architect, Sir Ernest George (1839-1922) and built between 1904 and 1906. The Jacobean style grace and grandeur of Olveston is distinguished by a wealth of decorative detail. It possessed a service lift linking all four storeys. The house was centrally heated and had an internal telephone system.
Olveston provided the Theomin family with the perfect setting to entertain both professional and personal friends. Seven servants were employed to service the 35 rooms and to manicure the acre of beautiful garden. The home is sited in the inner city and is within walking distance from the city centre.
David Theomin was born in Bristol , England in 1852. He was the son of a Jewish minister. He attended grammar school for three years in Bristol , in England . His working life began in 1865 as an apprentice to a merchant trading out of Bristol . David continued to work in the mercantile world until 1874, when he set out for Melbourne, Australia.
It was in Melbourne he married Marie, daughter of Moritz Michaelis, and at the end of 1879, the newly-weds had moved to New Zealand to establish a home in Dunedin.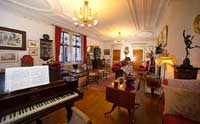 During the 1880's David Theomin established himself as a very successful businessman, developing the mercantile firm of Benjamin and Company and opening branches of his Dresden Piano Company throughout New Zealand . His new-found success was shared with the community, particularly the Dunedin Public Art Gallery . This support complemented his passion for art. By 1900 his distinctive, enthusiastic style for collecting art, typical of the late Victorian era, was at its height.
David Theomin continued an active life until 1933. He worked tirelessly to produce the financial resources required to build and maintain Olveston. His wide interests in the arts also included a passion for music. He was a member of the Royal Dunedin Male Choir. He was also involved with the affairs of the Dunedin Synagogue and worked hard in the interests of the Dunedin Chamber of Commerce, the Shipwreck Relief Society and the Patients and Prisoners Aid Society. David died at the age of 81.
Marie Theomin, (née Michaelis) was 24 when she married David Theomin. She ran her household with efficiency and was known as a 'firm but kindly lady'. She was very active in the newly formed Plunket Society, originated for the care of mothers and their babies. Her husband also shared this interest. Her involvement continued until her death in 1926. The Theomin family were very community driven and during the First World War Mr and Mrs Theomin both served on the Otago Patriotic Council.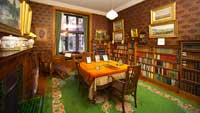 The Theomin's only son Edward was born in 1885. Edward was destined to follow in his father's footsteps but the Great War intervened and Edward was soon fighting for his country in France . After the war he married Ethyl Moccatta in London before returning to Dunedin . It was a childless marriage. The war had taken its toll and by 1924 his health began to decline. He survived his mother by only two years, dying in 1928.
The Theomin's only daughter, Dorothy, was born in 1888 and began her education in Dunedin . This was completed at Roedean, in England . After the death of her father in 1933 Dorothy was the only member of the immediate family still living.
Dorothy Michaelis Theomin died at the age of 77 on the 11th of October 1966, surviving her father by 33 years. It was revealed at the reading of her will that she bequeathed Olveston, with all its contents and an annual estate income, to the City Of Dunedin . It took twelve months of hard work by her many friends to pave the way for Olveston to become the historic family home that visitors enjoy today.