Introduction to Cromwell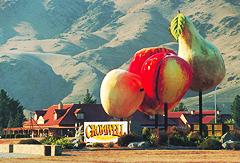 Fortune shines on Cromwell and the nearby settlement of Bannockburn. Once these centres were the focus of a thriving goldmining trade. Today they still draw people from far and wide, thanks to the other, equally precious resources with which they have been endowed.
Summer fruits such as apricots, nectarines and cherries, ripened to perfection in the area''s Mediterranean climate, is a large part of this new ''gold''. Equally celebrated is the local wine, the product of Bannockburn''s sun-bathed rocky slopes, which somehow captures in a bottle the warm flavours and enduring spirit of this distinctive corner of Otago. The Central Otago region is now New Zealand''s fasted growing wine producing region.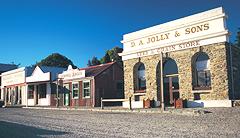 Cromwell, on the shores of Lake Dunstan, is the ideal base for exploration and adventure. Take your pick from fishing, boating, water skiing or, in winter, any one of the many ski fields which are in handy proximity. Ramble among the town''s historic precinct, where local arts and crafts can be enjoyed.
Try your luck at gold panning, or venture into the scarred landscape around Bannockburn, where tailings and tumbledown cottages are a fascinating monument to the former golden era. Discover the history of the goldfields by exploring the mining village at the entrance to the Kawara Gorge.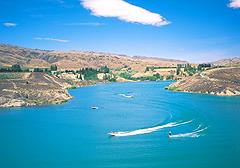 Here, as in the rest of Central, the land is rich in character. To fully appreciate its grandeur, spend some time walking in the dry schist ranges or head up to Bendigo, an old gold town where time seems almost to have stopped. Here the bones of buildings represent what was once New Zealand''s frontier, but you can feel Central''s spirit of adventure still very much among the hills.
---