Northern Southland / Kingston
The Upper Mataura area in Northern Southland officially starts at Kingston at the southern end of Lake Wakatipu from Queenstown. It includes the villages of Kingston, Garston and Athol, ending with a great view from the lookout on the Jollies Pass above Five Rivers.
Kingston, at the southern end of Lake Wakatipu is the home of the historic Kingston Flyer vintage steam train. It''s a great stopover between Queenstown (47km) and Te Anau ( 73km) with a range of accommodation options. There are walks in and around Kingston, cycling, hunting, boating and fishing and a lovely 9-hole golf course. In Kingston you''ll see many fine examples of quirky South Island
cribs
(holiday homes), an endangered species because you can''t build like this any more. Peaceful, friendly and a little bit different. Make sure you visit.
www.kingston.kiwi.nz
These small settlements were built along an historic railway line which was home to the vintage steam train, the Kingston Flyer, that operated train rides from Kingston. Amongst other things they provide the passing travellers with a variety of refreshments and accommodation. There is a new cycle trail about to be formed through the Upper Mataura area providing a new way to explore this area.
The landscape is a long valley surrounded by mountains from the ice age forming some stunning scenery, with the high mountains on the western side forming part of the Eyre Mountain Wilderness Park.
The Mataura River meandours all the way through it until it turns left at the Nokomai Gorge, before passing through Gore on its way to the Pacific ocean .It is popular with fly fishermen from all over the world who come to challenge its stock of brown trout in the Eyre and Mataura rivers.
Today the fertile hills and flats are farmed mainly by sheep and cattle farmers. Activities and Attractions: Fly fishing (guides available), Kingston Flyer (steam train), farm stays, helicopter tours, horse trekking, walks and hikes.
An unspoiled area which can still offer a true NZ experience !!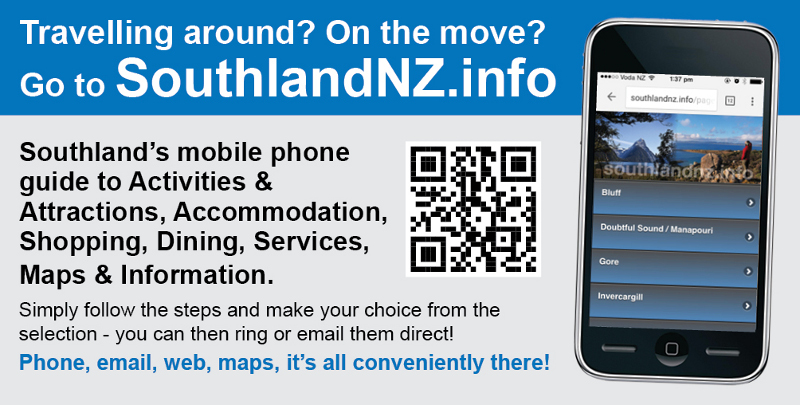 | | | |
| --- | --- | --- |
| Section | Distance | Time |
| Queenstown - Frankton | 7km | 5min |
| Frankton - Kingston | 40km | 30min |
| Kingston - Athol | 20km | 15min |
| Athol - Five Rivers | 23km | 15min |
| Five Rivers - Mossburn | 20km | 15min |
| Mossburn - Te Anau | 60km | 45min |
| Te Anau - Milford Sound | 120km | 2 hr 20min |
| Te Anau - Manapouri | 22km | 15min |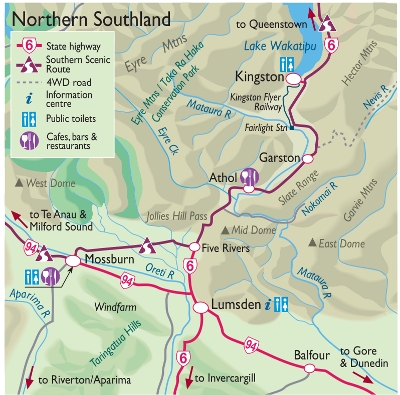 ---