Otago Peninsula New Zealand
The Otago Peninsula (19000ha), stretching along the southern edge of the Otago harbour is an easy drive from central
Dunedin
. A wonderfully scenic trip will see you passing lush green pastures, small bays and inlets, sandy beaches, rugged hills and volcanic landforms. So near to a major city centre, yet so far removed from the hectic pace of city living.
The Otago Peninsula is a frequently visited eco-tourism area in Dunedin. Its unique and fragile ecosystem is home to rare wildlife.  Please ensure that you camp only in permitted areas.
Wildlife Do's and Don'ts near Wildlife
• Seals: Don't come between seals and the water, for your safety remain at least 10 metres away from seals.
• Sea Lions: Do keep well back. Sea lions are not afraid of you and can move quickly over short distances.
• Penguins: Avoid letting penguins see you. Talk quietly and move away slowly. Keep to the tracks and away from nest sites.  Use viewing hides where available.
• At all times follow guides'' instructions, this will not only protect the wildlife but is also for your own safety.
Environmental Care Code

• Respect our cultural heritage. Dunedin and the Otago Peninsula have a spiritual and historical significance to tangata whenua, the local Maori people.
• Protect and respect our plants and animals. Penguins, seals, sea lions and albatross are sensitive to people.
• Remove all rubbish
• Leave no trace of your visit.
• Use the public toilets provided - refer to map page 28 for Peninsula locations (2010 Dunedin A to Z Visitor Guide).
• Many walking tracks on the Otago Peninsula cross private property.  Accordingly please remember to treat access in a responsible and respectful manner, as it is a privilege not a right.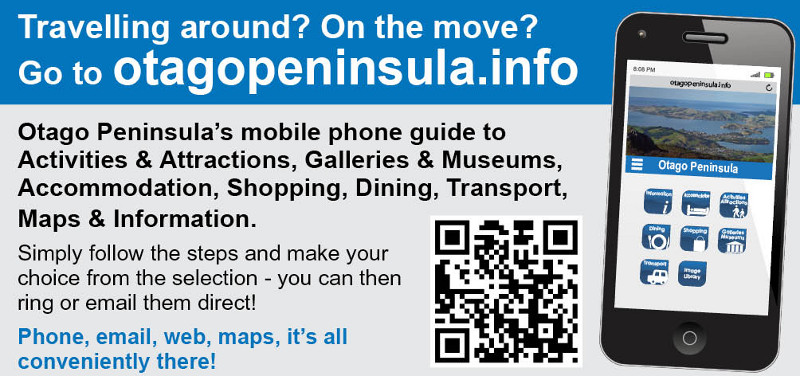 ---