Introduction to the Southland Region
A Diverse Province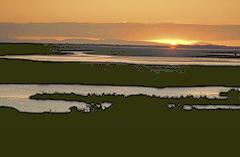 If you are looking for a destination that offers quality as against quantity then Southland, New Zealand is that destination.
Southland is ideal for those who want to escape the noise, hustle and bustle, pollution, high rise buildings, neon lights and thousands of other visitors. It is the place to re-establish that special kinship between people and nature and to restore the soul.
Rugged, natural, unspoilt, untouched green, contrasting of landscape, all describe Southland. It is a fertile place of green farmland and forest, laced with sparkling clean waters and small towns. Craggy mountains loom on the western and northern horizon and the rugged coastline forms our eastern and southern borders.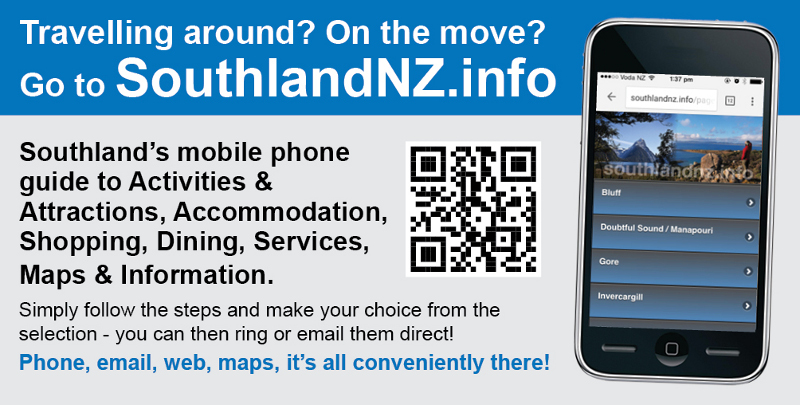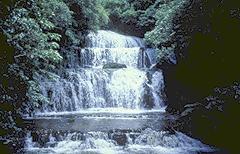 The
Southern Scenic Route
links
Fiordland
with the rest of the Southland region. This route will take the visitor through to our city
Invercargill
and then on to the spectacular
Catlins
area.
Driving the Southern Scenic Route from
Te Anau
to Invercargill the visitor will experience the contrasting landscape - from the wild coastline to green lush farmland home to New Zealand''s sheep. Attractions include Wairaurahiri experience, the Bushmans Museum at
Tuatapere
, Percy Burn viaduct (the largest wooden viaduct in the Southern Hemisphere), fishing village
Riverton
with a range of art and crafts.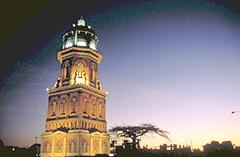 Southland''s city
Invercargill
offers many opportunities. Just three hours from Auckland (with one stopover in Christchurch) on jet aircraft Invercargill provides the option of the visitor starting their New Zealand holiday in the south.
Invercargill is an easy two hour drive to
Fiordland
and
Queenstown
, and two and a half hours to
Dunedin
, via State Highway 1.
Offering good quality and a wide range of accommodation, excellent shopping and restaurants, Invercargill is a convenient place to stay. Invercargill is known as The Friendly City - a reputation earned through the incredible friendliness and hospitality of the Southland people.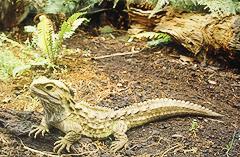 It is also home to a unique museum. The Southland Museum and Art Gallery housed under a spectacular pyramid like roof features a large enclosure called a tuatarium. Here visitors can see the tuatara which is the only living being left from the dinosaur age.
Another excellent attraction is the Southland Aquatic Centre - Splash Palace. There is so much to do to at Splash Palace, with facilities ranging from a 50 metre main pool, to waterslide and wave action leisure pool. Great for kids and adults alike.
Five Islands collectively known as The Subantarctic Islands lie 600 miles to the south of Invercargill. These Islands are New Zealand''s most remote and sensitive nature reserves and harbour some of the world''s last remaining areas of vegetation unmodified by humans and are strategic breeding grounds for thousands of seabirds, penguins and marine mammals. The Islands also boast a colourful human history of sealers, castaways and farmers who battled to survive in the bleak hostile climate. To protect these internationally important places entry is restricted to three of the islands and by special permit only. The Roaring Forties Experience at the Southland Museum and Art Gallery provides a more accessible introduction to the world of the Subantarctic.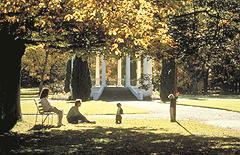 The Museum is located in Queens Park, a magnificent 80 hectare (200 acre) park situated right in the heart of the city. This park features outstanding rose gardens, an aviary, a small animal park and a challenging 18 hole golf course.
A scenic drive around the city is well signposted, passing interesting architectural features such as the fine brick buildings of the city water tower, First Church and St. Mary''s Basilica. Anderson Park, a beautiful Georgian style home just a short drive from the city centre, was built in 1924 and is managed as an art gallery and venue for exhibitions. The grounds include a walking track and children''s playground.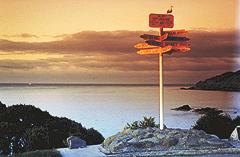 Bluff - just a half hour drive from the city centre is "Lands End". Its Island harbour is Southland''s port, through which exports of meat, timber, aluminium. Fish and wool pass. The port is also home to the Bluff oyster fleet, which dredges Foveaux Strait for the famous Bluff oysters. Visit the unique paua house, Stirling Point and the Maritime Museum to complete your experience in the town where Highway 1 begins.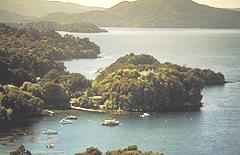 Just a 20 minute flight from Invercargill, or an hour by catamaran from Bluff,
Stewart Island
is a naturalist''s paradise. The Island is a smorgasbord of unspoilt inlets, bush clad hills and rugged coastline. Sense the difference. This is one place you cannot drive to. Once you arrive in Halfmoon Bay you will know you have come to a very special place. Stewart Island is a haven for native birdlife, the place to se kiwis, sooty shearwaters (Muttonbirds), wekas and perhaps the rare kaka, a native parrot.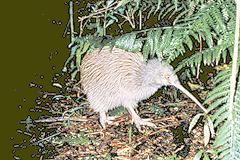 The unique experience of ''kiwi-spotting'' (viewing kiwis at night in their natural habitat) is a world first. Sea kayaking, launch cruises, visiting the salmon farms, walking on Ulva Island (a bird sanctuary) or tramping the many tracks are some of the exciting things you can do on this special ''third island'' of New Zealand. Visitors who want to ''get away from it all'' will find Stewart Island a gem.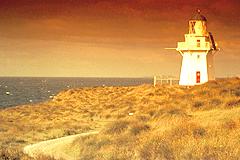 Following the Southern Scenic Route from Invercargill heading north to Dunedin you will view some of the magnificent bold landscape which these parts are known for. Stretching from Waipapa Point to Nugget Point The Catlins is one of New Zealand''s best kept secrets. To do it justice you will need time to experience the magnificence and beauty of this area. Tahakopa and Tautuku Bays provide superb examples of native coastal forest which provide ample opportunities for short treks. From 20 minutes to four to five hours you can park your car, walk on well defined tracks and along the way view great examples of the native coastal forest, view the native birds and breathe in the spectacular scenery.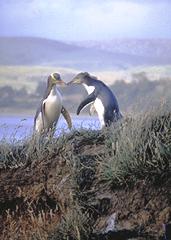 Around the rocky bush fringed coastline it is possible to see Fur Seals, Yellow Eyed Penguins, Hooker Sea Lions and Hector Dolphins.

At Curio Bay the fossilised remains of an ancient forest can be viewed at low tide. Nature tours both on and off the water introduce more indepth knowledge of The Catlins and visitors can learn first hand about this unique part of New Zealand. Boat tours offer the opportunity to view the Hector Dolphins - the smallest dolphin in the world.

Travelling inland away from the rugged coastline you will discover the green, mainly flat, fertile, lush farmland which Southland is known for. Southland lends itself to a host of farm experience opportunities, from farm stays to farm tours, there is ample to choose from. Although sheep is still the predominant type of farming there is a wide diversity of farming including dairy, beef, deer, grain and ostrich.

Situated inland and nestled on the banks of the Mataura River is Southland''s second largest town - Gore. Gore proclaims itself to be two capitals - the world capital of brown trout fishing and New Zealand''s capital of country music.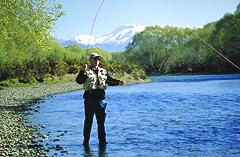 The Mataura River has an international reputation for the quality of its fishing and attracts anglers from all around the world as they seek the challenge of snaring a wily brown trout.

It is not only the Mataura River that offers this quality fishing as within Southland, there are in excess of 27 quality fishing rivers and streams. The challenge of catching a brown trout, the clearness of the water, the relative uncrowded rivers and easy access will leave any fisherman totally satisfied.

Heritage plays a big part in the Eastern Southland area which has a colourful past. It was here in the Hokonui Hills that the illicit yet romantic New Zealand whisky industry had its beginning.

The recently opened Hokonui Moonshine Museum tells stories from this time and industry as well as give a wonderful insight into the social history of New Zealand during the 1880-1920 era. Aviation of yesteryear can be captured by experiencing the thrill of open cockpit flying at the Croydon Aircraft Co at the Mandeville airfield. Vintage aircraft - particularly Moths are restored here as well as being able to be hired for flights.

Events represent a major part in the life of Eastern Southlanders and for the 10 days leading up to Queens Birthday the town of Gore comes alive to the sounds of country music as the New Zealand Gold Guitar Awards festival brings all types of musicians to town.

Late February sees Festival Time in Gore with one of the highlights being the Moonshiners Whisky and Food Festival.


Fact Sheet
---

Population:
Southland - 97000
Invercargill - 53000


---

Climate:
Southland is both the most southerly and most westerly area of New Zealand which spans latitudes 34 to 47 degrees south and so lies within the Southern Hemisphere temperature zone. Prevailing winds are westerly and moderate.


---

Rainfall:
There are two distinct rainfall regions:

Western ranges with annual falls of over 8000 mm, in some parts are among the rainiest places one earth.
The drier eastern lowlands and hills form a complete contrast with annual falls of between 1200 mm and 800 mm.

---

Driving Times:
From Invercargill


Te Anau via Lumsden
Te Anau via Southern Scenic Route
Te Anau
Dunedin
Queenstown

153 km
179 km
153 km
217 km
190 km

2.25 hours
2.50 hours
2.25 hours
3.10 hours
3.00 hours


---

Flying Time:
From Invercargill


Auckland
Christchurch

3.00 hours
1.10 hours


---
Did You Know That
Southland has the longest daylight hours in New Zealand.
Within Southland is New Zealand''s third island - Stewart Island.
There is evidence in Southland of Maori settlement dating back to 10 century AD.
Riverton (Jacob''s River) - is one of the earliest European settlements in New Zealand.
The famous Maori canoe Takitimu (one of the original fleet to sail from Hawaiki) ran aground at the mouth of the Waiau River near Tuatapere.
Ancient Podocarp forests exist in South Fiordland.
Curio Bay''s Petrified Forest is 180 million years old.
The Percy Burn Viaduct (near Tuatapere) is believed to be the largest wooden rail viaduct remaining in the world.
The Southland Museum and Art Gallery''s tuatarium is home to over 50 live tuatara ranging from baby tuatara to tuatara over 100 years old.
The Hokonui Hills are famous for the legend of Hokonui Moonshine Whiskey which was distilled there illegally during the 1800s.
More Information
For more information contact:
Venture Southland Tourism, P.O. Box 1306, Invercargill, New Zealand
Phone: +64 3 211 1429
Fax: +64 3 211 1401
Email: enquiry@venturesouthland.co.nz
Internet: www.southlandnz.com
---