The Catlins
> Introduction to The Catlins
The entry/exit points are Fortrose in the South and Balclutha in the North, the following are some points of interest along the route and commence from the Southern end: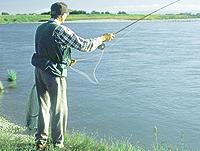 Fortrose - (45km from Invercargill) situated at the mouth of the Mataura river; also starting point for the Heritage Trail to Niagara; 19th Century whaling station. Named by a Scottish drover who thought the place to be similar to Fortrose in Scotland. Campsite, petrol, boating and fishing.


Fortrose Cemetery is the earliest European cemetery in South Catlins. It contains a headstone commemorating the lives lost on the SS Tararua on Waipapa Reef.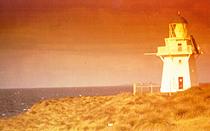 Waipapa Point - Shortened from the original Moari name of Waipapapa, meaning shallow waters, this is the site of New Zealand''s worst civilian shipping disaster in 1881 - 131 lives lost with the wrecking of SS Tararua. A wooden lighthouse was subsequently built and still remains operative (automated in 1976). Some of the victims were buried in the nearby cemetery ''Taraua Acre''. Cemetery is closed during lambing season (September - October).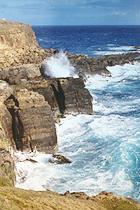 Tokanui - Main centre of the South Catlins region. Medical centre, shops, restaurant, tavern, petrol and waste dump station.

Waipohatu Recreation Area - contains an easily accessible walking track and picnic area on conservation land (30 minutes return) is wheelchair accessible, and a larger hike (2 hrs return), on the edge of the native Waikawa forest. Maori believed there were mythical beings here, ''wild men of the forest'' (maeroero). Podocarp forest noted for its ferns and logging remnants.

Slope Point - Southern-most point of the South Island, 7km further south than Bluff, windswept trees, shop. Stewart Island and Bluff can be seen on a clear day. Access closed during lambing season (September - October).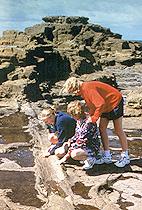 Curio Bay/Tumu Toka - Tumu Toka, translates to ''harden wood'' or ''stump of wood'' - a reference to the Jurassic fossilised forest.. Site of one of the geological wonders of the world. The sub tropical forest of kauri like trees were buried in a volcanic eruption that covered the forest in ash. Buried under more rock, it later sunk beneath the oceans; on reappearing the petrified forest was revealed. Stumps and logs dating from the Jurassic age 180 million years ago are clearly defined in the tidal platform; best viewed at low tide.


Niagara Falls/Manga Piri - named after the huge falls in North America, these must be the smallest falls you will see! The falls were the endpoint of a river highway as they could not be crossed by boat. Maori called the falls Mangai Piri, which refers to the way lamprey eels (Kana kana) wriggle up the falls using suckers to hang onto the rocks. This is a seasonal event; the eels migrate upstream to breed.

Porpoise Bay - Home to the rare Hector''s dolphin with their distinctive black and white markings. They are only found off the coast of New Zealand and total numbers are calculated as being under four thousand. Porpoise Bay is also a safe swimming spot and the dolphins may even come up to you!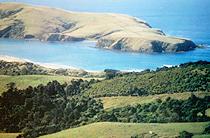 Waikawa - Originally established as a whaling station, followed by gold exploration and latterly a timber milling area. The museum, originally Waikawa school, has an extensive collection covering the local history. Dolphin Information Centre, camp site, fishing and boating. Short walk options include the Old Coach Road (20 minutes return, and only passable at low tide), and the George Aitken walk (20 minutes return).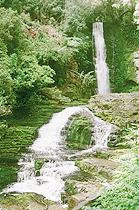 McLean Falls - 40 minutes return forest walk featuring tree ferns leading to a dramatically spectacular waterfall falling over 22 metres into a deep gorge. (Travel 6km up Rewcastle Road.) Holiday park, cafe & bar.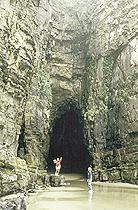 Cathedral Caves - 50 minute bush and beach walk to spectacularly impressive caves which rise up over 30 metres (Access to the caves is from October to May and only at low tide). As access is across private Maori land there is a nominal toll fee for access to this attraction; 80 minutes return. Please contact Clutha i-Site for tide times to ensure access.


Trails Tractor Historic Walk - This 10 minute walk, rich in early Catlins timber milling history, travels to Cook''s old mill site and a restored ''Trails Tractor'' logging machine. The walk starts from Fleming River Bridge.
Lenz Reserve - Contact Forest & Bird for access to this reserve that gives a chance to spot some very special wildlife - forest gecko, green tree frogs, and 16 types of native fish species. From the Tautuku Forest Cabins (available to book ) three easy walking tracks vary in length between 1-3 hours. Form more information www.forestandbird.org.nz


Tautuku Estuary Boardwalk - This partly board walked track heads through podocarp forest to estuary flats home to a population of fernbirds/matata who are often herd but seldom seen. 30 minutes return.
Tautuku Bay - Walk from opposite the Outdoor Education Centre on the main Chaslands Highway, or drive to the beach picnic area via the narrow gravel Tautuku Beach Road. The beach is suitable for 4WD only. 15 minutes return to beach.


Lake Wilkie - This walk shows the amazing succession of forest development from lake edge to mature forest. Flowering Rata are splendid during summer. Suitable for wheelchair to the top viewing point. 30 minutes return.
Florence Hill Lookout - This is a great place to stop and enjoy the spectacular view of Tautaka Bay and Tautaka Peninsula to the south; and Tahakopa Bay and Long Point to the north. It has become popular fir ''big wave'' surfing competition.
Picnic Point - Bush and a sandy coastline with rock pools provide variety on this easy walk. Suitable for all age groups. 40 minutes return.

Papatowai - (45km from Waikawa) situated on the South bank of the Tahakopa estuary, offers a wealth of bush and beach walks. Early Maori camp site, Fishing, shop, camping ground and waste dump station, fuel. Also in close proximity are Lenze Reserve, Tautuku and Tahakopa Bays and Matai Falls.


Old Coach Track / Tahakopa Loop Track (Papatowai) - Coastal podocarp forest fringing a sandy bay. Walk along the Old Coach Road to a moa hunter camp at the river mouth. 40 minutes return. There is also a 2-3 hour (return) tramp through this significant reserve.


Matai Falls - Through regenerating podocarp / broadleaf forest, beautiful Matai Falls are best viewed late in the morning. 30 minutes return.

Purakaunui Bay is a remote camping spot, suitable for picnicking, near a native bush reserve and Purakanui River, which is safe for swimming.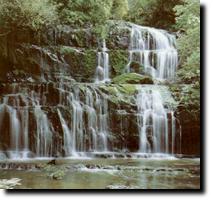 Purakaunui Falls - (11km from Papatowai) Walk through native beech and podocarp forest from a picnic area to view the Catlins best known waterfall. The river cascades 20 metres over 3 tiers offering a spectacular sight. 20 minutes return. The Track is suitable for wheelchair users to the top viewing point.

The Catlins River-Wisp Loop Track - Track includes two 12 kilometre routes, the Catlins River Walk and Wisp Loop Walk. The routes can be walked in either direction and can be done as a 24 km two day tramp or one long day tramp.

Sections of the track can be walked independently of the others, as there are many entry/exit points along the way. The Wisp Loop returns along the forestry roads and could be mountain biked separately.

The Rocky Knoll extension track is a side route that runs off the Wisp Loop Walk, and is well worth the short climb to get the views and also see some nice sub-alpine vegetation not often accessible in the Catlins to the general tourist. -

Jack''s Blowhole
- Names after Maori chief Tuhawaiki (known to European settlers as Bloody Jack) Farm track leads to deep blow hole on the cliffs. The blow hole is 55m deep and 200m from the sea. It formed when the roof section of the large subterranean cavern, eroded by the sea. Open all year round. 60 minutes return.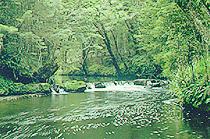 Owaka
- (17km from Purakaunui Falls) The main town of the Catlins was originally settled in the 1860s by timber millers and then followed by farmers as the bush was progressively cleared. Today Owaka comprises an information centre, museum, fishing, shops, restaurants, accommodation, tavern and petrol. An ideal location to spend some time exploring the nearby points of interest, Jacks Blowhole, Pounawea, Hayward Point, Surat and Cannibal Bay, Catlins Lake and Tunnel Hill.
The Catlins Information Centre and Owaka Museum
10 Campbell Street, Owaka, The Catlins
Pounawea Bush Walk
- Ecology important because of its rare vegetation, this walk offers virgin podocarp forest, rich in birdlife, and returns via a saltmarsh and estuary where wading birds can be seen. Each year godwits return from Northern Asia to the sand spit near the mouth of the estuary. The saltmash area is accessible only at low tide. 45 minutes return.

Cannibal Bay / Surat Bay - Wonderful place to look out for New Zealand (Hooker) sea lions. The sailing vessel Surat was wrecked on this coast in 1874.
Surat Bay Wildlife Walk - This track, through sand dunes, is one of the best ways to experience the world''s rarest sea lion ( NZ seal lion / whakahoa ). Please take care around sea lions. When you remain out of sight in the sand dunes, you will be able to observe their behaviour and how they interact. 30 minutes return.



Tunnel Hill - Easy walk to railway tunnel, excavated by hand between 1891-92, and lined with locally made bricks. Take a touch and please stay within the reserver boundaries. 20 minutes return.


Roaring Bay - This 47 hectare reserve is a breeding place for the yellow-eyed penguins/hoiho. These penguins are best seen from the Roaring Bay hide as they return from the sea in the evening. They nest in the native shrubland covered areas of the headland. Binoculars are recommended. 10 minutes return.

Kaka Point - A sizeable holiday town - excellent surfing beach; fishing, forest and beach walks, accommodation. The Kaka Point bush walk is an easy 30 minute (return) walk that allows you to feel as if you are in a remote area of bush. You will see many vegetation types, such as ferns, perching plants and podocarp species. The bush walk boasts good tracks providing easy access into this coastal remnant forest.
Awakiki Track - By using the foot access through the neighbouring farm and following a short loop walk, an outstanding example of lowland totara forest can be explored. Awakiki Reserve is signposted south of Telford Rural Polytechnic. 40 minutes return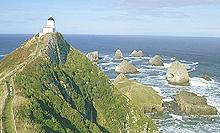 Nugget Point / Tokata - (8km from Kaka Point) possibly the Catlins most well known sight. An easy walking path leads to a stone lighthouse built in 1869. Spectacular coastal views. A reserve managed by the Department of Conservation, New Zealand. Binoculars are essential to view the wildlife on the rocks close up and a camera is also recommended to take a souvenir of the fantastic, rugged landscape. The exposed site contains many hardy plant species usually found in alpine regions. A unique blend of wildlife can be seen here, including sooty shearwaters, spotted shags, red-billed gulls and southern blue penguins. It is also the only place in New Zealand where New Zealand fur seals (kekeno), Southern elephant seals (lhupuku), New Zealand (Hooker) sea lions (rapoka), sooty shearwaters (titi), the rare yellow-eyed penguin (hoiho) and many other seabird species coexist. Yellow-eyed penguins can also be seen nearby at Roaring Bay, at dawn or late afternoon. 20 minutes return.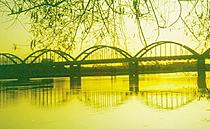 Balclutha - (30km from both Nugget Point and Owaka) Exit/Entry point to the Catlins. Balclutha is situated on the banks of the Clutha River (New Zealand''s largest river by volume) on SH1. Shops, accommodation, information centre, museum, trout and salmon fishing.

Balclutha - Invercargill via The Catlins 185km. Free camping is not permitted in The Catlins however there is a variety of accommodation available throughout the region - Motels, Camping Grounds, Backpackers, Homestays and Farmstays - refer A to Z directory
The Catlins Care Code
Wildlife
- Penguins are shy and easily stressed - stay out of sight.
- Sealions and seals need space - stay at least 12m away.
- Protect nature; do not remove plants, animals or fossils.
- Control dogs - they can kill penguins and threaten seals.
- Best viewing sites: Nuggets, Cannibal, Surat, Curio Bay, Waipapa.


Camping - Picnicking
- Use the camping grounds - they have toilets and waste disposal.
- When camping, observe signs and leave areas as you found them.
- Fires can destroy the bush - light no fires without a permit.
- Rubbish is a hazard to health and wildlife - take it away.


Driving
- For the enjoyment and safety of others, limit vehicle use on beaches.
- Farm animals on roads: stay in your vehicles and drive through slowly.
- Keep left, respect others, pass stationary school buses at 20kmh.
- Reduce speed when driving on unsealed roads.


Waste Disposal
- Avoid polluting the environment; main settlements have toilets.
- Campervan waste disposal at the Tokanui shop and Woodstock camp.
- Rubbish disposal at Papatowai or enquire at information centres.
- Recycling at Tokanui.

Note: There is minimal cellphone coverage in much of the Catlins.
Public phones are located at Owaka, Papatowai and Tokanui.


Leave nothing but footprints
Take nothing but memories