Invercargill > Introduction to Invercargill
Invercargill is New Zealand''s southernmost city. Here we take great pride in our reputation as ''the friendly city''. There is much that makes us unique.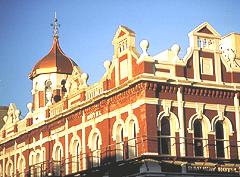 The name Invercargill was specially chosen to reflect our Scottish heritage. There is no other place of the same name. Southern Maori were distinct in their practical and seafaring lifestyle, something that still holds true. The variety of Invercargill''s architectural heritage also gives the city a character all of its own.
Invercargill began as a frontier town to serve the farming community. Today farming, particularly sheep and dairy, remains key to the local economy, which supports over 50,000 people.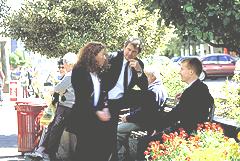 The central hub of Invercargill hums and buzzes with people on the go. This is the place where most of the city''s major commercial and retail activity takes place. There is excellent shopping, a focused business district, lively eateries and restaurants, and late night entertainment. Flat and easy to get around, Invercargill has all the trappings of city life and few of the drawbacks.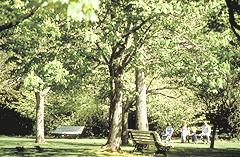 Fanning out from the hub, wide suburban tree-lined roads grace the streetscape. Elegant homes and bungalows are interspersed with small local shopping centres, schools and sports grounds. There are awesome parks, and rivers that ebb and flow with the tide.
On the city''s outer boundaries there are forests, the New River Estuary, the ocean and green pastures. Invercargill is favourably placed on the Southern Scenic Route and is the gateway to other exciting destinations, like the Southland heartland, Stewart Island, Fiordland and The Catlins.
History
The first Europeans to set foot on the South Island''s southern coast were sealers in the late 1700s. Others intent on harvesting flax came in the early 1800s and whalers began arriving from 1829. Sailors, traders and entrepreneurs followed.
Maori had arrived over 600 years earlier. Bountiful fish and birds attracted seafaring Maori to Bluff. They became exceptional crafters of stone tools, supplying them to Maori throughout the country. Other smaller settlements were based on the rivers. Maori quickly became involved in the growing economy. Amongst other things, they were instrumental in the flax trade, whaling and supplying ships with food.
Each Maori settlement had its own name and much of the region we now call Southland, is referred to by Maori as Murihiku. According to legend, Murihiku is the last joint in the tail of the fish that is the South Island.
The idea that there should be a cohesive city called Invercargill, was a European concept. It started to take shape when people from the Scottish settlement of Dunedin began buying land for sheep runs in the far south. The farmers needed to import stock from Australia. So in 1856 they presented a petition to Thomas Gore Browne, the Governor of New Zealand, for a port at Bluff.
The Governor consented and at the same time suggested a corresponding township be called Invercargill. He wanted to pay tribute to William Cargill, a high profile Scottish pioneer involved in the administration and settlement of the Otago/Southland region.
The name stuck and soon after chief surveyor John Turnbull Thomson declared the site. His careful planning of reserves and wide streets, (many named after rivers of Scotland and northern England) remains characteristic of Invercargill.
Also reminiscent of Invercargill''s past, is the distinctive architecture of churches and buildings, still intact. They include Victorian, Edwardian, Art Deco and others.
From its inception Invercargill was a service centre to what became a flourishing farming community. With grit, determination and a strong sense of southern identity, Invercargill emerged out of isolated bush and swamp to prosperity.
Facilities
Invercargill Airport is a mere five minute drive from the city centre. New Zealand''s two national carriers operate regular daily flights in and out of the city. Shuttles, taxis and rental cars are available at the airport and from city locations.
Invercargill offers travellers the opportunity to stock up and catch up. Banks, ATM machines, post shops, supermarkets, sport/camping stores, internet and library facilities are within easy walking distance of one another. The business traveller can be assured of quality amenities. Invercargill has catered convention centres, copy centres and communication facilities.
Every service consistent with city life is available here, from medical professionals to car service centres. There is an array of retail outlets for the keen shopper. A sampling includes superb specialist gift shops, department stores with a wide range of merchandise and local fashion shops.
Travellers to Stewart Island can go by plane or ferry. Each local operator offers a schedule of daily crossings. Shuttle buses run between Invercargill, Fiordland and other Otago destinations. Long distance rail and coach services operate from the city''s centrally located railway station.
The Invercargill Visitor Information Centre provides up to the minute tourist information about Invercargill and other destinations.
Invercargill''s range of hotels and motels has it all, offering top quality accommodation; old world comfort; and modern units. In-house facilities may include convention rooms, business services, sport and leisure activities, restaurants and bars.
The budget traveller has a choice of Bed & Breakfast homestays, backpacker lodgings and camping grounds.
Licensed cafes offer innovative menus, good coffee and the opportunity for late night dining. Restaurants cater for everyone from the family to those looking for a more formal or intimate setting. Consequently, there are many choices of cuisine: seafood, Indian and Chinese, to name a few. Taverns provide casual home-style dining. There is also a range of breakfast/lunch bars and take-out/eat-in pizza and fast food outlets to choose from.

Activities
Sport and leisure activities are a big part of life in Invercargill and there is plenty for both the participant and the observer. Go swimming. Oreti Beach is a popular spot with summertime surf patrols while Splash Palace offers an ultimate aquatic experience.
Check out the city''s numerous gyms and the fitness track at Queens Park. Hire cycles, windsurfers and surf boards; go mountain biking at Sandy Point, skate-boarding at Elles Road, trout fishing with a guide, hiking, bird spotting or ten pin bowling; play golf, tennis squash or pool.
Join in the excitement at any of the various motor sport venues. Have a flutter at the raceway on the horses or the dogs. Experience the atmosphere of rugby at the Homestead Stadium; the intensity of hockey at Gala Street; the thrill of netball at Surrey Park. Surrey Park is also where you will see many other team and individual sports in action.
Take in the sights around Invercargill, the historic buildings, galleries and parks. See a contemporary feature movie or an old art house film at the southernmost 5-screen multiplex cinema, complete with digital sound. Experience Maori culture. Arrange a visit to Murihiku Marae.
Head down to the fishing town of Bluff, famous for its delectable oysters, and home of Southland''s major port. Stop off at Tiwai Point and visit New Zealand''s only aluminium smelter. For further information on any of these activities, contact the Visitor Information Centre. For information on Bluff, please visit the Bluff website.
Tuatara
The Southland Museum and Art Gallery has the largest public display of live Tuatara in the world, of which, Henry is the oldest.
The success of the museum''s Tuatara breeding programme is unequalled. Climate control and a hearty carnivorous diet has allowed Albert and his concubines, Mildred and Lucy, to become prolific reproducers.
Once, these scaly reptiles of prehistoric ancestry roamed on all continents. Now they are found only on predator-free islands off the coast of New Zealand, and in captivity.
Individual Tuatara can live well over 100 years, perhaps up to 300. As a species, they have existed for 150 million years. Their magnificent appearance harps back to the age of dinosaurs.
Invercargill Tuatara live in a well mimicked natural environment. It is enhanced by the bullet-proof glass exterior looking out onto Queens Park. This also means Tuatara can be viewed from the park, outside of normal opening hours.
Take a peek after dark to catch these nocturnal creatures ''puffing up'' or ''raising their spines'', as they greet one another beneath the soft red lights.
Meet Henry: Dignified ... self assured ... Aristocratic in stature ... An elder ... demanding respect befitting his 100 plus years ... Arrogantly daring you to detect that daytime slight of head ... hidden breath ... Nothing stirs the lush native growth. Time all but stands still here. For this is home to ancient Tuatara.
Galleries, Art and Craft
Situated on the edge of Queens Park, the Southland Museum and Art Gallery building is the largest pyramid in the Southern Hemisphere. Inside there is 500 million years of Southland''s natural history and 800 years of its human history.
Three art galleries feature changing displays of local, national and international art, from historical to contemporary.
The Subantarctic Islands come to life in the gallery entitled ''Beyond the Roaring 40°s''. This two part exhibition also features the exciting ''Audio Visual Experience''.
An historical exhibition spanning several galleries richly portrays our past. It includes superb treasures from our Maori prehistory.
The Museum is also home to 50 live Tuatara and there is an astronomical observatory. The Visitor Information Centre and a café are located in the foyer.
Anderson Park Art Gallery is proud of its ever-growing permanent collection which focuses on quality art from the far south and throughout New Zealand. The collection features a wide variety of art from early to present day.
The highlight of the gallery''s year is its annual spring exhibition during October.
Top New Zealand artists exhibit at this popular exhibition where only the finest pieces are selected. The gallery also holds small exhibitions from time to time.
The two-storey Georgian-style residence which houses the gallery, stands grandly amid the gardens of Anderson Park.
The centrally located SBS Gallery run by the Southland Art Society, exhibits a wide variety of art and craft. Its main exhibition is held in early spring. During the rest of the year this small gallery serves as a venue for local artists and crafters who want to hold their own exhibitions. From time to time it features exhibitions of well known artists from outside the region.
Invercargill is fortunate to have a number of other small galleries that exhibit and sell original art work.
Parks and Gardens
Gardens and parks abound in Invercargill. Queens Park sprawls across 80 hectares. This well designed and often sheltered park boasts beautiful and varied rose gardens, a rhododendron dell, an azalea garden, dramatic tree lined walkways, bush paths, a selection of native plants, a Japanese garden, rock and herb gardens. There is an indoor Winter Garden featuring tropical and flowering plants. Cacti is displayed in an adjoining house.
Queens Park also has an impressive bird aviary, animal enclosures, children''s play areas, extensive sporting facilities and cafes. Also prominent on the grounds is the Southland Museum and Art Gallery.
Anderson Park surrounds a Georgian-style mansion, now an art gallery. It covers 24 hectares and features flower gardens brimming with colour, rose gardens, immaculate lawn, tall trees and native bush. There is also a traditional carved Maori house, a short bush walk circuit, duck pond and children''s playground.
Donovan Park is adjacent to Anderson Park. The short road through it passes tall trees, a large duck pond and grassy picnic spots.
Otepuni Gardens spill along the banks of the Otepuni Stream. Defined pathways cut through expanses of lush grass, and take you past gardens of annuals, shrubs, mature trees and the river itself.
Walks and Wildlife
Stretch your legs and wonder at the harmony of nature on one of Invercargill''s manageable bush trails. Walk through totara forest at Sandy Point Domain, just 7km west of the city. Experience the native bird-life and climb the sand dunes. Look-out points on the many tracks give fantastic views of the New River Estuary, which borders the domain. Take time to reflect on our history. This peninsula was home to early Maori and used by whalers.
For a more tangible view of history take the track at Greenpoint Domain, 2km north of Bluff. It is a ships graveyard. This piece of coast was a past dumping ground for vessels at the end of their lives. Skeletons of steel whalers and beached fishing boats litter the shore.
Breathe deeply and taste the sea air of Bluff. Foveaux Walkway is a 6.4km walk along rugged coastline below ''Motupohue'' (The Bluff). This is a one way return walk from Stirling Point to Lookout Point and back again.
A circular track just over 7km in length starts out on the Foveaux Walkway. It continues on from Lookout Point, over Bluff Hill and back to Stirling Point.
For a short 20-30 minute excursion try the Glory Track, one way between Stirling Point and Gunpit Road.
A variety of short bush walks are available at some smaller reserves close to Invercargill.
North meets south at Awarua Wetlands. Migratory birds from the northern hemisphere have come to regard Waituna Lagoon and Awarua Bay as an important feeding and resting place. The wetlands are also a stronghold for water fowl and native birds such as fernbirds and bittern. Many species of wading birds can be observed at Awarua Bay. Altogether Awarua Wetlands Scientific Reserve and the adjoining Seaward moss and Toetoes conservation areas cover 14,000 hectares. This is the largest protected wetlands in southern New Zealand.
Just think ... Folk up country are drawing their blinds and switching on the lights; calling an end to the day. You on the other hand, are feeling exhilarated as you tee off on an Invercargill golf course. The evening sun is warm on your back and the tuneful sound of birds is in the air.
As golf courses go, Invercargill is blessed. There are four attractive 18-hole courses, all within minutes of the city centre. Southland''s long summer evenings mean you can be on the course right up until 10pm.
All four courses are unique. Golfers can enjoy a centrally located tree-lined course or a sandy based well draining course suiting most weather. Also available is a privately operated all-weather floodlit public driving range or why not enjoy a game on a course established a century ago.
All of the clubs offer clubroom comfort, refreshments, coaching and practice fairways.
Yet another golf club is located at Greenhills, just before the town of Bluff. This undulating nine hole course is run by volunteers. It has inspiring views of windswept coastline and the Mokomoko Inlet. The club operates a green fee honesty box. Refreshments are available on Saturdays.
More Information
For information and enquiries, contact the Invercargill Information Centre.
Invercargill Events: www.events.southlandnz.com
back to top