Waitaki District
> Introduction to Oamaru and the Waitaki District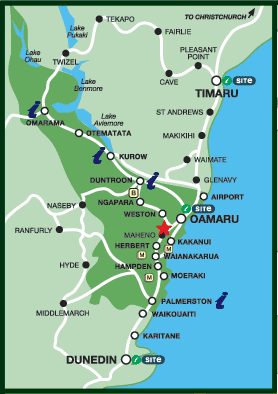 The fourth largest territorial authority in New Zealand, comprised of superb uncluttered roads, the Waitaki District will take you all the way from the coastal waters of the Pacific to the Southern Alps. Ancestors have left heritage to appreciate in the form of beautiful old stone buildings, streets of them, all with a marvellous history.
Travelling north from Dunedin,
Palmerston
historically, was a major junction and supply depot during Otago's gold rush years, a point where hopeful miners bravely began their tortuous journey over the 'Pigroot' in hope of finding gold. Today, the Otago Goldfields Heritage Trail begins at Palmerston and traces the diamond shaped network of historic gold mines, goldfield towns and scattered mining relics.
North of Palmerston lies
Moeraki
, home to the internationally famous
Moeraki Boulders
. Explanation of these marvellous boulders wavers between scientific theory and Maori folklore and are a definite 'must see'.
The fishing village of Moeraki is restful and charming and allows fishing, Yellow-Eyed Penguin viewing and walks along the scenic coastline.
Follow this beautiful coastline and marvel at the wonderful countryside en route to
Oamaru
. In early days many magnificent limestone buildings were erected and Oamaru is lucky that many of those buildings remain intact today.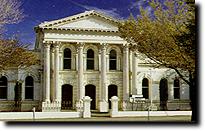 You may enjoy a journey on the Oamaru Steam Train, a walk through the grand Gardens or a visit to the little Blue Penguin colony.
Heading inland from the coast, you'll find
Duntroon
, a small village with many geological and historical assets. Many rock drawings were left on the limestone cliffs by people travelling up the Waitaki River to cross the Southern Alps. Continuing inland the visitor will travel through settlements including
Otekaieke, Kurow, Otematata
and
Omarama
. This scenic drive along the Waitaki Riverbed offers exceptional experiences such as trout fishing, jetboating, waterskiing and windsurfing in addition to magnificent walking, tramping and 4WD routes. The lakes:
Waitaki, Benmore
and
Aviemore
will not only generate interest as hydro power stations but also for their important habitat of birds and wildlife, including the endangered Black Stilt which nests in the
Mackenzie Basin
.
Omarama
is most famous for the unparalleled gliding conditions provided by the inland ringed basin. The town is well endowed with accommodation and visitors can ski, glide, fish, play golf or visit the amazing fluted
Clay Cliffs
.
Lake Ohau
skifield, a short drive from Omarama, is the smallest commercial skifield in New Zealand, and some say the world. For a truly unique skiing experience, try friendly Ohau. There is also a variety of walks while tramping in the Ohau Forest is very popular.
The Waitaki District is an experience! For those wishing to encounter such enchantment, visit this superb district and be prepared to have your breath taken away.
Forrester Gallery
The spectacular building which houses the Forrester Gallery could be considered the finest work in the collection.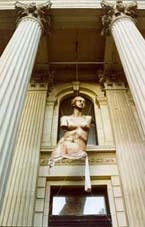 Its history dates back to 1882 when the Bank of New South Wales purchased a plot of land next to the rival Bank of Otago, now the National Bank. Gold mining and a recent surge in agriculture had created an economic boom in the port town of Oamaru and competition between banks was strong. To project an image of substance and prestige, new banks were often built to imitate familiar neo-classical models found in Britain. The soft and plentiful white limestone found around Oamaru facilitated these ventures.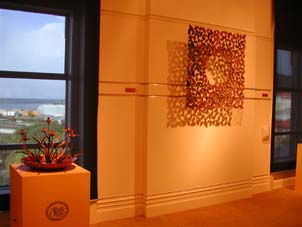 The BNSW commissioned the architect responsible for the neighbouring Bank of Otago erected in 1873, Scottish-born R.A. Lawson, to design a more impressive structure for their purposes. Lawson, one of New Zealand''s foremost architects, is best known for designing Dunedin¹s First Church.
The premises were ready in 1884. An inspector reported ³freehold in Thames Street, 66 feet frontage, 165 feet deep. The building is of stone, is handsome in appearance, in excellent repair and suitable for all requirements.
The building served as a bank and manager''s residence until 1979 when the Oamaru Borough Council acquired the site in exchange for another in the central business district. Local council had been searching for a suitable location for an Oamaru gallery since 1965 when retired architect and former mayor, John M. Forrester left a substantial bequest for the founding of a local gallery.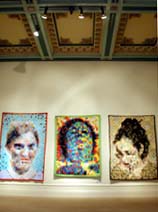 After significant restoration including earthquake strengthening, the Forrester Gallery was opened in 1983.
Today the Forrester Gallery, which is funded and administered by the Waitaki District Council, offers the Waitaki and wider region a varied and exciting exhibition programme, houses a growing collection of artworks significant to the region, and stands as an icon of Oamaru¹s unique whitestone historic district.
The Gallery supports local and regional artists and offers national and international exhibitions in all media, which reflect and challenge community interest.
The Forrester Gallery is registered as a Category 1 site by the Historic Places Trust.
The North Otago Museum
North Otago is an area of amazing history. Its unique geology and innovative people have left their mark in a variety of ways. It is a place of which its inhabitants are justifiably proud.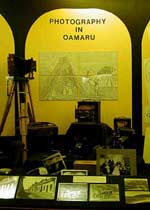 The North Otago Museum has, as its focus, the fostering of an appreciation of the Waitaki district''s natural and cultural heritage. Situated in the 1882 Athenaeum building, the Museum can claim to be following a lineage that was begun only a few years after Oamaru was proclaimed a borough (1862).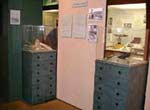 Displays feature what is special about our area - immigration, agriculture, military, shipping and geology. It also is the home of the significant ''Willetts Collection'' of Maori taoka from the Waitaki River mouth site. Collections of interest include textiles, Temuka pottery as well as products from the Regina Bubble gum factory.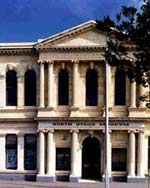 In 1985 a purpose built archive facility was attached to the Athenaeum. Material from many of the areas schools, churches, clubs, local authorities and businesses are available for research along with over half a million photographic images (many on a digital database) and 8000 maps and plans. We also hold newspapers dating from 1864 up to the 1990s. The research room has a number of microfiche from New Zealand and overseas.
A visit to the North Otago Museum will allow the visitor to get to know the local environment and learn about the people and events that shaped this small community. Far from being a repository of things from the past the Museum gathers much of what is unique about the area and presents it in a vibrant way. The heritage of Oamaru is made up of many stories to tell, stories that can only be accessed by visiting the treasure house of the community - the North Otago Museum.
For more information contact
- Preserving and promoting our heritage for over 140 years -
Totara Estate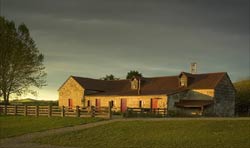 A bold vision started here back in 1882...a daring dream of sending frozen meat to the other side of the world. Today that dream is a $4.5 billion industry and New Zealand''s most famous export industry. Step back in time to New Zealand''s pioneer past and... Journey through a unique part of New Zealand''s history that is Totara Estate...home to one of this nation''s great stories...and many a good swagger''s tale! Explore the great Estate and experience along the way:
an introductory video on the birth and development of New Zealand''s meat industry
a museum display covering Totara''s grand Estate days
the talk of butchers working ''on the line'' in the 1880''s
significant archeological remains
early New Zealand sheep breeds
a tribute to men of ''monumental vision'' on nearby Sebastopol Hill.
And after, relax on our picnic area and let the history sink in, or browse in our shop for that special reminder of a unique place.
About Totara Estate
Once a grand estate covering 15,000 acres, today Totara''s restored farm buildings and displays are a tribute to the courage and determination of New Zealand''s early pioneers, who helped shape this country and make it great.
The site was purchased by the NZ Meat Board and gifted to the New Zealand Historic Places Trust, who restored and opened it to the public on the 15th February 1982, the centenary of the first frozen meat shipment from these shores.
Today Totara''s redevelopment continues with the generous assistance of many inspired New Zealand companies who have had the foresight to recognize the historic significance of this national birthplace.
Totara Estate is registered as a Category 1 historic place.
Totara Estate is situated 8 kilometres south of Oamaru on State Highway 1.
The entrance to the property is well signposted.
>
Opening Hours
Summer Hours: October - April: Every day 10am - 5pm
Winter Hours: May - September: Wednesday to Sunday 10am - 4pm
Closed Easter Friday & Christmas Day
Admission Prices:

| | | |
| --- | --- | --- |
| Adults - $7 | Children/Students - $12 | Family - $15 |

NZ Historic Places Trust Members/Affiliated Members - free
Concessions apply
Guided Tours upon request
Address:
19 DRD
Oamaru
Phone:
+64 3 434 7169
Fax:
+64 3 434 7169
Email:
totaraestate@historic.org.nz
Website:
To find out more about Totara Estate and the New Zealand Historic Places Trust visit
www.historic.org.nz
www.totaraestate.co.nz
The Oamaru Blue Penguin Colony
Introduction
The award winning Oamaru Blue Penguin colony is the easiest place in New Zealand for people to view Blue penguins (
Eudyptula minor
) at close range. The local population is around 3000 birds and is increasing by 30% each year. The colony was formed in 1993, due to increasing concern for the Blue penguins'' health and safety. Nesting boxes were made and the area made more habitable for the penguins. The colony is located in an old rock quarry that the Blue penguins colonised after the quarry was closed. It is likely that penguins have lived in this area for a very long time as 34 million year old fossils of other penguin species have been found here.
Research Programme
Colony staff have an ongoing research programme to monitor the life cycle and status of the Blue Penguins. To enable them to calculate population numbers and follow individual birds and family units, every new chick is banded at 5 weeks. The kind of data the researchers collect include:
Arrival times and numbers of birds coming in every night of the year
A weekly check of all nest boxes, identifying birds by numbers on their flipper bands
Weighing chicks each week to monitor their progress, and counting eggs during the breeding season.
Through this research it has been found that the nightly penguin watching by humans has caused no adverse impact on the colony.
Biology of the Blue Penguin
The Blue Penguin or Korora, also known as little penguins, live on the coasts of New Zealand and Australia. They are the world''s smallest penguin, being 25cm tall and weighing about 1kg. Their normal lifespan is about 8 years. Both sexes look similar, although the male has a larger bill. As their name suggests, their plumage is blue with white underneath and they have pale grey eyes.
Blue penguins spend all day feeding at sea, leaving in the morning before first light and not returning till after dark. Non-breeding juveniles can spend months away at sea, but will always return to their natal colony. Blue penguins feed mainly on squid, sprat and octopus and have a number of predators at sea. These include sea lions, leopard seals, sharks and Orcas. Fortunately none of these predators are common around the Oamaru coast. Just after dusk, Blue penguins return to their nest, which is any sort of hole or burrow and use the nesting boxes put out by the Oamaru Blue Penguin Colony staff.
Blue penguins breed at around 2-3 years of age and produce 2 eggs. The breeding season in the Oamaru colony is from July to March and two sets of eggs may be raised in one season. Outside the Oamaru colony, one set of 2 eggs is more usual. The eggs are incubated for 36 days and remain in the nest for 8 weeks after hatching. This is a vulnerable time for the adults and the young as predators such as cats and rats eat chicks and eggs, while ferrets and stoats attack adult penguins. Both parents share the responsibility of incubation and feeding. After hatching, one adult will be with the chick until day 16, but then both parents need to go to sea to get enough food to feed the chicks.
At the end of the breeding season, the adults prepare for moulting by spending a lot of time at sea feeding to put on weight. During moulting, the birds cannot go to sea to feed, as they are not waterproof while the old feathers are moulting. This makes them extremely vulnerable to predators and consequently it is a very stressful time for them. Moulting usually takes about 2 1/2 - 3 weeks and occurs annually. The newly fledged juvenile penguins, meanwhile, take to the sea returning one day to breed.
Information on Viewing at the Oamaru Blue Penguin Colony
The only time to view the Blue penguins is at night when they come ashore to their nests. They gather together at sea, forming groups called rafts, and waiting for dark to come ashore. This means arrival times vary monthly so make sure you check the timetable. Numbers of Blue penguins coming ashore also vary seasonally, with the greatest number of penguins coming ashore from November-January. You could be fortunate enough to see as many as 200 penguins coming ashore. Most penguins come ashore within the first hour and the viewing platforms allow you to watch penguins entering nest boxes from around 7.5m away. The nest boxes are appropriately lit for maximum viewing pleasure, at a level that does not deter the penguins. For the well being of the penguins, cameras are not allowed as the flash damages their eyes, and for their, as well as your own, safety, do not touch the penguins as they have a fierce bite! Binoculars will enhance your experience being able to watch the penguins even more closely, and warm clothing is recommended on cold nights. With a 99% probability of seeing Blue penguins, this is a must see wildlife experience!
The Waitaki Valley

The Waitaki Valley is home to the mighty Waitaki River and its tributaries. The River drives a hydro power scheme featuring a series of dams and lakes. The Valley offers an array of outdoor activities including fishing, boating, camping, skiing, hunting, hiking, golf and gliding or the opportunity to simply relax and enjoy the ambience at various villages.

The Districts'' unique geological features are showcased at the Vanished World Centre and Trail at Duntroon which is also the gateway to the iconic Elephant Rocks and Danseys Pass.

The Waitaki Valley runs the length of State Highway 83 and takes you through Duntroon, Kurow, Otematata and Omarama. The area is full of intriguing natural landforms, historic buildings, and plenty of lakes and rivers, making it a fisherman's and holidaymaker's paradise. It is home to a number of Hydro Dams, including New Zealand's largest earth Dam and to New Zealand's Gliding Capital, Omarama. It also makes an attractive alternative route to Mt Cook and Queenstown. As you travel along State Highway 83, you will notice oaks planted every mile, in acknowledgement of those servicemen who lost their lives in World War I.

Awamoko
20 km east of Duntroon, Awamoko houses the intriguing Lavender Deer Park. Definitely worth a look, you can browse through the variety of Lavender products for sale, whilst enjoying a close-up view of the tame deer.

Duntroon
On State Highway 83, Duntroon opens the way to the Waitaki Valley and its many attractions, both natural and man made. Visit the historical buildings in Duntroon or take a trip to visit the Maori Rock Art, the Elephant Rocks and the unique Earthquakes landform. Duntroon also gives access to Dansey's Pass and Tokarahi.

Activities


Vanished World Centre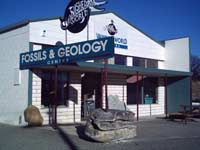 Located in the beautiful Waitaki Valley, at Duntroon, the Vanished World Centre exhibits a range of marine fossils that provide a glimpse into an ancient eco system some 27-35 million years ago. This was a time when ancient whales, dolphins and penguins were masters of this place .Take time to travel the Vanished World Trail and marvel at the regions changing landscape and natures stunning sculpturing of ancient sea beds .
Trail available all seasons
Hours:
10am to 4pm ( entry fee applies ) October to April ,
Winter by arrangement
Phone:
+64 3 4312024
Website:
www.vanishedworld.co.nz
Of historical significance are the Maori Rock Drawings. This fascinating site offers a glimpse into the past showing a set of drawings in charcoal and red ochre. These drawings are in limestone shelters used by the early Maori and one site is 2 km west of Duntroon, another is at Maerewhenua. Another historically interesting site is Nicol's Blacksmith shop in Duntroon. Still with its original interior and containing a bellows and powered forge, along with a number of works on display, this building is over 100 years old and uniquely preserved. Right next door, is the original Bootmaker's shop, now known as the 'Flying Pig' Café.
The Rattling Rocks are a must see in order to overcome your curiosity. In the Maerewhenua River bed, near Duntroon, are rocks that actually rattle. Earthquakes, in Duntroon, is another remarkable site well worth a visit. Here you will find an unusual landform that was caused by an earthquake. For some more unique topography, visit the Elephant Rocks on the way to Dansey's Pass. These limestone rocks will fascinate you and are great for some bouldering and is a nice place for a spot of lunch. Carrying on down this road will take you to Dansey's Pass that takes you through to Naseby. At Dansey's Pass, visit the Coach Inn, built in 1862, no doubt used by the gold prospectors who once travelled this road.
Turning off from Dansey's Pass road will bring you to Tokarahi, home to the Tokarahi Golf Course and Tokarahi Homestead. For those wanting to step back in time to experience history, Tokarahi Homestead is the place for you. This 19th century home has been restored to its former splendour and promises a truly realistic and vivid insight into early 19th century living. Surrounded by beautiful gardens and trees, Tokarahi Homestead provides luxury, peace and tranquillity.
Otekaieke
Here you will find the Campbell Park Estate, built in 1861 from Limestone. Later, in 1876 a Scottish Castle and stable were added, along with the planting of numerous North American and European trees to create a natural, elegant setting.
Kurow
Kurow is a pleasant township, 70 km inland from Oamaru on State Highway 83 that services the upper Waitaki valley and the Hakataramea Valley. It is primarily a farming town and has a full array of dairies, gift shops, restaurants, cafes, a post office and a variety of accommodation to suit all tastes.
FISHING, GOLF AND SKIING
The Kurow Golf Club is a scenic 9 hole course and clubs can be hired. Fishing for trout and salmon in the Waitaki River is a must for fishing enthusiasts and is available from October - April. Fishing gear and licences are available in Kurow as well as a fishing guide. From April to May the salmon are spawning and this can be viewed from the Hakataramea Bridge 2 km from Kurow. There are also jetboat tours available on the Waitaki River. Skiing is also an option at Awakino ski field, owned by the Waitaki Ski Club, 11 km west of Kurow. There is a hut on site and 4WD access to the skifield. There are also various walks from Awakino to the skifield and beyond, that range from 30 minutes – several hours. For some fantastic scenery, take a walk up Kurow hill. It is a steep 45 minute climb to the top but well worth the magnificent views of the Waitaki valley. The community also offers a number of other sports such as swimming, tennis, squash, bowling and cycling.
KUROW CULTURE
For the culturally-inclined, there is the Kurow Museum, that delves into the town's past with displays and exhibitions. The museum is open during summer and on request to groups at other times. There are also many historic limestone buildings to be seen, many on the main street. These include the Anglican Chapel and Vicarage (built 1892), the Kurow Hotel, Buffalo Hall, the Butchery and Western House (a Bed and Breakfast; built 1871). The Kurow Festival is an annual event in January and includes a market day, a golf tournament and fishing contests and the famous Hay People. They are a family made out of hay bales that is erected every year and lasts for a couple of months. A great photo opportunity! There is also a 100 km road race that occurs annually in November, and has become known as 'That Dam Run'.
For some history in action, visit the working water wheel by Kurow Creek near Western House. This was used as a power source to drive a number of machines such as stamper batteries that extract gold from hard quartz rock reefs.
EXPLORING
Turning off from Kurow leads you up the Hakataramea Valley to the Hakataramea town where wool and grain production used to be the main industry. Further up is the Hakataramea Pass where magnificent views of the Southern Alps can be gained. For experienced trampers, there are 1-2 day tramps in the Kirkliston Range in the Hakataramea Valley (access from Farm and Milne Roads). From the valley, you can walk over the mountains to the hydro Lakes off State Highway 83 (Waitaki, Aviemore and Benmore Lakes).
Continuing west on State Highway 83, you will pass the Waitaki and Aviemore Dams. The Waitaki Dam, completed in 1935, was the last to be built without the aid of machinery. The Aviemore Dam was completed in 1968. Near the Aviemore Dam is an old village called Wharekuri, at its height in the 1860s. Remains of a hotel and stables can still be seen. Further along, near Lake Aviemore is Parsons Rock, where legend has it that stolon gold was abandoned here by bushrangers being chased. The rock is named after Reverend J.C. Andrew ('The Parson') who would give his Christmas day sermon here.
Otematata
Otematata (meaning 'a place of good quartz or flint') is at the site of New Zealand's largest earth dam, the Benmore Dam, at New Zealand's largest man made lake, Lake Benmore. Established in the 1950s, Otematata provided accommodation for employees and their families, working on the Waitaki power projects. Today, it is a popular holiday spot, with lakeside camping spots, and numerous places to fish, swim and go boating.
Activities
The Benmore Dam was completed in 1965 and guided tours of the powerstation make for an interesting visit. The Benmore powerstation is 3 km from Otematata and tours last about 1 hr 15 mins. Bookings are advisable at the Meridian Energy Benmore Centre. The centre is also worth a look with informative displays, photographs and working models of how the powerstations work.
A scenic drive past the Benmore Dam, takes you around Lake Aviemore, where you can stop at beaches and picnic areas. Lakes Aviemore and Benmore can be fished for trout and salmon all year round except during September. There are also boat ramps for more adventurous trips on the Lake itself and camping areas by the lake for those wanting to stay longer. To be sure to get a camping spot, you can reserve camping sites from October to April. You will also pass the Deep Stream Walkway on this drive, which is a pleasant walk, taking about 30 minutes one way.
For those wanting to stay dry, visit the Otematata Golf Club, which has a 9 hole course, sure to appeal to all golfing fanatics. There is also a bird sanctuary to visit and the area is known to be home to some rare moths, butterflies and birds. For an extensive view of the Waitaki landscape, take a walk up the Benmore Track, starting above the Benmore Dam. At the top of a short climb is a lookout with picturesque views of the Waitaki Valley and Mt. Cook.
Further west, along State Highway 83 is Glenburn Park and Sailor's Cutting. Glenburn Park is by Lake Benmore and provides camping facilities and great fishing opportunities. There are also the remains of an early settlement here to satisfy any budding archaeologist's craving. Sailor's Cutting is a great picnic area and boat launching spot.
Omarama
Omarama, the 'place of light', is 119 km northwest of Oamaru at the junction of State Highway 8 and 83, making it ideally situated as a stopping place for travellers on their way to Mt Cook, Queenstown or Oamaru. Omarama has much to offer outdoor enthusiasts and holidaymakers, with its rivers, nearby lakes, ski slopes and natural formations to explore. As New Zealand's National Gliding Centre, Omarama has perfect gliding conditions and has hosted the World Gliding Championships.
In the past, Omarama was a stopping place for parties heading to the West Coast to find New Zealand greenstone (jade). It was also a great place for hunting moa (extinct flightless native bird), weka, ducks and eels.
FISHING
Fishing is a huge attraction at Omarama with a number of watering holes to choose from, such as the Ahuriri River, Omarama Stream and Lake Benmore, along with a range of fishing styles. Try your hand at dry-fly casting on the Omarama Stream, trolling and nymphing on LakeBenmore or fly fishing on the Ahuriri River. Brown and Rainbow trout are the main fish species caught here with plenty of trophy fish waiting for your line. Employ one of the local fishing guides in the area to take you to remote and well-stocked areas. Lakes can be fished year round while rivers can be fished from October – April. Boating on Lakes Benmore, Ohau, Middleton and Ruataniwha is a fine experience with plenty of fishing opportunities here too.
CLAY CLIFFS
Visit the Clay Cliffs or Paritea (Maori for white or light coloured cliff), a natural rock formation 10 km west of Omarama. The Clay Cliffs are huge sharp pinnacles and ridges with deep, narrow ravines separating them. This sort of formation only develops with certain types of rock in arid or semi arid areas that are also subjected to infrequent heavy rainstorms. The rocks must be compact enough to stand in deep faces, but soft enough to be eroded easily by running water. The Clay Cliffs are made of layers of gravel and silt, deposited by rivers flowing from glaciers existing 1-2 million years ago. Compared to the nearby mountains, which are 250 million years old, the Clay Cliffs are relatively new. Today the gravel and silt layers can be seen as sloping bands as the strata have been tilted since their deposition 1-2 million years ago. The Clay Cliffs are protected forever by a Queen Elizabeth II National Trust Open Space Covenant.
ON LAND AND IN THE AIR
Check out the Omarama Golf Club that maintains a 9 hole golf course, the perfect activity for a sunny afternoon in a picturesque landscape. Or take an energetic walk behind Omarama Vineyard, up to a panoramic view of the MacKenzie country and the lakes. Hunting is another favoured sport in the region, with possibilities of hunting waterfowl, rabbits and hares. From July – September, the Ohau Ski Area is operating and is close to Omarama, making it the perfect place to stay after a long day's skiing. Ohau has great views of Lake Ohau and the longest T bar in New Zealand (1033m long). Tramping in the nearby Ohau State Forest is a great place to get away from it all, with plenty of huts interspersed among the native bush. For an adrenalin rush and excellent views of the Waitaki Valley, take a flight in a glider from Omarama airfield (October – April). Omarama airfield also provides flights to the Southern Alps in a light plane. The Omarama Rodeo is a must for everyone in the region, an annual event occurring in December. Other events in the region include dog trialling in early March, a triathlon in early May and New Zealand Merino Shears in early October.
From Omarama, you can head off to Mount Cook, Queenstown via the Lindis Pass, or to Oamaru up the Waitaki Valley.