Hiking / Tramping in the South
Refer also
www.forestandbird.org.nz
- New Zealand''s leading independent conservation organisation
and
www.doc.govt.nz/parks-and-recreation/plan-and-prepare/weather/
.
Whether enjoying day walks or the traditional "kiwi tramp" of several days duration, the Otago/Southland and Southern Lakes regions allow both visitors and local people the opportunity to experience the finest walks in the world.
The South Island encompasses spectacular scenery with glaciated valleys, deep ravines, waterfalls and alpine views, giving trampers memories of a lifetime. Unique native flora and fauna, with an abundance of history, will provide visitors with a rare glimpse of New Zealand as it is today and how it once was.
Mount Aspiring and Fiordland National Parks in Otago/Southland are part of the South West New Zealand World Heritage Area. World Heritage is a global concept that identifies natural and cultural sites of world significance. Some of the best examples of animals and plants once found on the ancient super continent, Gondwanaland, live in this World Heritage Area. Within these parks are world-renowned tracks such as
The Rees & Dart
,
Hollyford
&
Routeburn
,
Greenstone & Caples
,
Kepler
&
Milford
and the recently opened
Tuatapere Hump Ridge Track
.
Enquire about the excellent selection of guided walks at local visitor information centres and, for those wishing to tramp independently in the National Park, enquiries need to be made at the Department of Conservation (DOC) offices. Online bookings can be made at
www.doc.govt.nz
for the Milford, Kepler and Routeburn Tracks.
Remember, weather conditions on the tracks can be unpredictable and change quickly - before you head off into the bush, call into the nearest
sports shop
or DOC Centre, and check you have the correct gear for the area. Good planning and preparation is fundamental in reducing risk of injury and
hypothermia
.
Highly recommended reading for shorter trips is "Accessible Walks", a guide to scenic walks in the South Island of New Zealand. This book will appeal to people with disabilities and also people with young families with pushchairs as well as older people who want to enjoy the outdoors without going on a major expedition. (Anna & Andrew Jameson, Madyeti Publications)
Day Walks
Overnight Tramps
---
Walks Around The Southern Lakes
Walks Around Queenstown
Queenstown Gardens (30 minutes return)
Visit the beautiful gardens on the peninsula and take in the views of the lake on the way.
Frankton Arm Track (2-3 hours return)
Walk or cycle this track along the Lake edge from Queenstown to Frankton with views of the Remarkables.
Queenstown Hill (2 hours return)
Learn about Queenstown''s heritage as you work your way up the hill to some magnificent views at the top.
Ben Lomond Track (4 hours one way)
Take a walk up to one of the highest peaks in the area (1747m) and take in the panoramic views of the surrounding mountains and lakes. On the way down, some great views of Queenstown are to be had.
Skyline Vehicle Track (45 minutes one way)
Climb to the top of Skyline Hill, then catch the gondola back down!
Sunshine Bay Walk (1 hour return)
Lakeside walk through native bush and a pleasant waterfall.
One Mile Creek Track (1.5 hours return)
A steady climb through native beech forest, with the option of joining other tracks or returning the way you came.
Mount Crichton Scenic Reserve (3 hours return)
An historical walk, through native beech forest, with remnants of the goldmining days, such as Sam Summer''s hut, to be seen. Scenic views are to be had of Lake Wakatipu and Lake Dispute.
Moonlight Track (4 hours return)
A popular track, with some fantastic views; this walk can be combined with the Ben Lomond Track.
Bob''s Cove Scenic Reserve (1 hour return)
Walk through bush to Bob''s Cove. Continuing on will take you past an old lime kiln and jetty and up round the cliff top, with views of the cove, and back to Bob''s Cove. A great picnic and swimming spot.
Walks Around Glenorchy
Lagoon Walk (1 hour return)
A nice trek around a lagoon with lots of mountain views and birdlife to see.
Lake Sylvan (45 minutes return)
A fantastic bush walk to Lake Sylvan, which is a great picnic and fishing spot.
Walks Around Arrowtown
Tobins Track (1-1.5 hours return)
A walk along the Arrow River before climbing up the Crown Range to some stunning views of Arrowtown and the Wakatipu Basin.
Arrow River Track (1 hour return)
A pleasant loop track, that meanders along both sides of the Arrow River.
Sawpit Gully Track (3 hours return)
A climb to see some great views of the Wakatipu Basin.
Macetown Road
An historic walk through goldmining country. Can be linked with the Sawpit Gully Track. Be prepared to cross streams.
Walks in the Teviot ValleyBullock Track Walkway (5 hours return)
Near Roxburgh, this walk offers panoramic views of the Teviot Valley, Roxburgh and the Clutha River and Hydro Dam.
Town River Walk (1 hour)
See some of the historic buildings of Roxburgh; a map can be obtained at the Information Centre.
Grovers Hill Walk (30-40 minutes)
This walk provides views of the town, river and mountains. Also see old mining relics and reach some great fishing spots.
Horseshoe Bend Bridge Walkway (1 hour)
A loop track that takes you to Horseshoe Bend Suspension Bridge (built 1913). Along the way are some beautiful river views.
Guided Walks
Short guided walks are available for those who want to get the most out of the region. Guides will offer some history of the area and can identify and call the native birds for you to inspect closely.
Walks Around WanakaDiamond Lake - Rocky Mountain Walking Track (1-3 hrs return)
This is a versatile walk to the top of Rocky Mountain (775m) with options to suit everyone. A track consisting of two loops, the shortest walk takes 1 hr return while the longest takes 3 hrs return with 2 other options in between. Fantastic views of the lake and the surrounding hillside. This is a privately owned track so upkeep is voluntary - donations are appreciated.
Mount Roy Track (5-6hrs return)
For some panoramic views, climb to the top of Mt Roy. Take in the spectacular views of Lake Wanaka and Mt Aspiring as well as the surrounding mountains and glaciers.
Eely Point and Beacon Point Walks (30 mins return each)
A short walk that takes you to a pleasant, sheltered picnic spot with a swimming hole close by at Bremner Bay (5 mins). From Bremner Bay, you can reach Beacon Point by following the shoreline to Penrith Beach. From here are some great views of the lake and mountains.
Mount Iron Track (1.5hrs return)
A grassland-covered hill carved by a glacier, the summit of Mt Iron (549m), will reward you with magnificent views of Lakes Wanaka and Hawea, Cardrona Valley, Upper Clutha Valley, and Mt Aspiring National Park.
Waterfall Creek Walk (2 hrs return)
A meandering walk along the shoreline, with ideal places for picnics along the way. Continuing along, you will come to a high point with views of Wanaka and the Lake.
Lake Outlet Walk (1hr)
A pleasant scenic walk from Wanaka to Albert Town following the Clutha River. Perfect for cyclists and there is plenty of access to the Clutha River for those interested in fishing.
Millennium Walk (2 hrs return)
This is scenic stroll alongside the lake with some stiles to cross in places.
West Matukituki Valley
For some fantastic mountain scenery, take a walk up the ROB ROY TRACK (3hrs return). A fairly well formed track, with some boulder hopping required, this sloping track leads up to some spectacular views of the Rob Roy Glacier. Guided walks are available for this walk from Wanaka or Queenstown. Medium fitness.
Climb up to the
Shotover Saddle
(3hrs) for some fantastic views over the West Matukituki and Rob Roy Valleys.
A walk into Aspiring Hut will take around 2-3 hours but once there, a whole array of tramps open up and can be day walks from Aspiring Hut or overnight tramps, making it a great base for trampers. Aspiring Hut was built in 1949 and is managed by the Department of Conservation (DoC). The hut contains a wood stove, mattresses and running water. In summer there is gas for cooking, flush toilets and a resident hut warden.
Aspring Hut to Pearl Flat
(1.5hrs), then on to the head of the valley (add 2 hrs) makes for an enjoyable traverse through open meadows and bush. Along this track are routes off to French Ridge Hut and Liverpool Bivvy. Continuing on past the head of the valley to Bevan Col is a trek for experienced trampers.
Independent Walking InformationWebsite:
www.doc.govt.nz
Guided Day Walks
Guided walks are available for the Rob Roy Glacier walk, Diamond Lake, Mt Iron and the Lake Outlet Track.
Guided Walk Contact Information
Walks Around Coastal Otago
Walks Around Dunedin
Central City Walks
The City Centre offers an enlightening walk to view many historically important buildings of Dunedin. Starting at the Octagon, you can see St Paul''s Cathedral, the Municipal Chambers and the Regent Theatre. Not far away is First Church and the Allied Press Building, where New Zealand''s oldest daily newspaper, the Otago Daily Times, is published. Also nearby is the magnificent Dunedin Railway Station, which was once the busiest railway station in the country. At the Otago Settlers Museum, see the first steam locomotive used on the Dunedin railway and many other items used by the early settlers. At Queens Gardens, visit Dunedin''s tallest statue, the Cenotaph, commemorating the lives lost in World War I and World War II. Other buildings of interest include the former Chief Post Office, Speights Brewery, Otago Girls'' High School founded in 1871, St Joseph''s Cathedral and Wesleyan Church (now the Fortune Theatre).
South Dunedin WalksTunnel Beach (1 hour)
A short walk allows you to view the coastline and some awe-inspiring coastal cliff formations that were formed by the sea eroding the soft sandstone. A huge sea arch can also be seen. Tunnel Beach is so called because in the 1870''s, a tunnel was dug by a local farmer, John Cargill to allow private access to the beach for his family. The abandoned Cargills Castle, which can be seen north of the track, was built by his brother Edward Cargill. You can walk down the tunnel to explore the beach with its boulders and caves. You may find fossils in the stone. A great picnic spot at low tide. The track is closed for lambing from August until 31 October.
Taieri River Track (4 hours return)
This track traverses part of an 8 km gorge through regenerating and mature native forest containing totara, matai, rimu, miro, kahikatea and the ubiquitous tree ferns. Views upriver at the track''s high point are spectacular. Seabirds, wading birds and forest birds intermingle at this confluence of habitats.
Picnic Gully Track (45mins return)
A walk through forest dominated by fuchsia and whitey wood with many forest birds.
Allison Conservation Area
There are two tracks, the Kamahi Track (30mins return) and the Rata Ridge Track (45mins return). The area is covered in podocarp forest with rata and kamahi trees.
Sutton Salt Lake Scenic Reserve (1 hour return)
New Zealand''s only inland salt lake is about half as salty as seawater and the plants surrounding the lake are typical coastal species. Tors (rocky outcrops) are also present in the landscape. Tors develop due to differing resistance to weathering, leaving the more resistant rock in place, becoming a tor.
North Dunedin Walks
Visit the Otago Museum, with numerous and informative displays of Pacific, Maori and natural history. Visit the Animal Attic on the top floor of the museum, and take part in the many interactive displays in Discovery World. Take a walk around the many buildings making up Otago University and then continue on to the Dunedin Botanic Gardens. The Gardens contain a rose garden, rock garden, duck pond, aviary, rhododendron dell and a native bush section. Near the Botanic Gardens is the Northern Cemetery where the tomb of William Larnach (builder of Larnach''s Castle) lies. The tomb is a mini replica of First Church. Thomas Bracken, who wrote the hymn, God Defend New Zealand (New Zealand''s National Anthem) is also buried here.
Upper Leith Walk
There are numerous short walks that can be done in the Woodhaugh Gardens, amid native bush and parkland, with views of the Leith Stream, and various historical structures can also be seen. The Gardens boast a barbeque area, toilets and a huge park/playground area with swings and space to kick a ball around and have a picnic. Woodhaugh Gardens also host the annual food and wine festival. The Woodhaugh Gardens was once covered in native wetland forest and a remnant of this is left in the Gardens. Interpretive signs along some tracks give historical information, such as the various floods that have inundated the area.
Ross Creek Walk
Ross Creek contains a reservoir with an historic valve tower and many intersecting tracks around it It is very popular among runners and walkers alike and dogs are allowed. The tracks are through native bush with scenic views of the reservoir, and circular routes can be made following the same markers along the track. An orienteering course is set up around Ross Creek, so for a bit more of a challenge, give it a try. A course map can be obtained from the Dunedin Visitor Centre or Department of Conservation.
Flagstaff Walk (1 hour return)
Gain magnificent views of Dunedin City from this fantastic vantage point. Flagsaff got its name when flagstaffs were erected in 1850 to mark this early stock route as it was easy to get lost amid the tussock when it was misty or cloudy. 200-300 years ago, this tussock-clad hillside was covered in native bush, but is now maintained as a tussock grassland reserve by periodic fires. As you walk, views of the Taieri Plains, Saddle Hill and Mosgiel will open before you and as you climb higher Dunedin City will become visible. There are a number of options that you can take once reaching the summit of Flagstaff. You can walk back the way you came or continue onto the Pineapple Track, which will take you back to the City through Ross Creek and Woodhaugh Gardens.
Pineapple Track (3.5 hours return)
This track got its name in the 1920''s, from a local grocer who guided people up the track and provided a snack of tinned pineapple at the top, leaving the cans behind as litter. This track links the flagstaff track with Ross Creek but can also be walked as a shorter loop walk.
Leith Saddle Track (3.5 hours return)
A bush walk up to Swampy Summit (739m) with fantastic views all around.
Swampy Ridge Track (3 hours one way)
This track links the Pineapple Track to the Silverpeaks Track across Swampy Summit (739m). There are various places in which to start this walk so you can choose your route. It takes 1.5 hours to reach Swampy Summit on this route.
The Silverpeaks Route
A popular tramping route through tussock and scrub to Silverpeak (777m), where awesome views of Taieri, Middlemarch, Palmerston and Dunedin can be seen. Beyond Silverpeak are rocky areas and huts are situated for overnight tramping if desired. There are various routes that can be done, ranging from 3 - 8 hours long.
Nicol''s Falls and Glow Worms (1 hour return)
These 15m high falls are best visited just before dark as glow worms are present on the surrounding cliffs. The glow worms emit light from their tails to catch insects, which stick to a thread the worm produces. The glow worms are more abundant further along from the waterfall, where the track continues after the waterfall turnoff.
Grahams Bush Walk (3 hours return)
A walk through kanuka and fuchsia and then mature forest. It is evident that the area was cleared at one time and is slowly regenerating and eventually the kanuka will be out competed.
Mount Cargill WalksA H Reed Walk (20 minutes return)
This track is dedicated to Alfred Hamish Reed who published the book "Walks Around Dunedin", and was also a bookseller, writer and philanthropist. This track gives great views of the city and Otago Peninsula and Mt Cargill can be seen.
Bethunes Gully (4 hours)
This track takes you up exotic pine and then native forest to the top of Mt Cargill. The Gully was the site of David Bethune''s sawmill, who previously owned the land. Fantastic views of Dunedin City and its surroundings can be seen from Mt Cargill''s summit, which also houses the TV Tower.
Organ Pipes (45 minutes)
Early photos showed a similarity of this 10 million year old natural rock formation to organ pipes, which was formed by cooling molten volcanic rock, causing the rock to contract and crack. The cooling of the rock at the Organ Pipes has resulted in 4-6 sided columns of rock, some over 2m long. The rocks have over time become weathered but are still spectacular to look at. From the Organ Pipes you can continue up the track to Mt Cargill.
Silver Stream Water-Race Tracks
The Silver Stream Water-Race was completed in 1881 to provide additional water for Dunedin City. It is 29km long and contains timber sluices, tunnels and weirs. Most of the water-race was eventually replaced with pipeline but the area containing the walking tracks is the only area not piped. The water-race was abandoned in the 1960''s and by the late 1980''s the present walking tracks were developed. Explore a part of Dunedin''s history while enjoying the native bush, the scenic views and the exercise! Some circuits are suitable for mountain bikes and dogs are allowed.
There are a number of short tracks, from 1 - 4hrs return that provide scenic views of native forest, the Taieri Plain and the Silver Peaks as well as views of the Water Race itself. See Powder Creek, named after fine gold dust was found in the stream, cross streams, and see a 262m long tunnel.
Longer tracks in the area, take from 4 - 5hrs return to walk. Some tracks contain steep exposed parts, and are for good route finders as the track is not well marked. Along some of these tracks, you may come across the ruins of huts used by water race workers.
Otaga Peninsula Walks
The Otago Peninsula contains a diversity of wildlife and topography, and numerous beaches and unique vistas that can be enjoyed in any number of walks in the area. See dramatic coastlines, fascinating natural formations, historic sites and climb to high points to gain magnificent views. The tracks can be short or long and cater to all fitness levels. They range in time from 5 minutes to 3 hours return. Some tracks may be mountain-biked and dogs are allowed on some tracks also. Below is just a few of the tracks available on the Otago Peninsula.
Seal Point Road to Sandfly Bay (40 minutes one way)
A fantastic beach that is reached by sliding down huge sand dunes (a plastic bag is ideal for sliding down on!). On the beach is an observation hide to view yellow eyed penguins coming ashore and you may encounter sea lions as you walk through the sand dunes. A fantastic place to bring the kids and have a picnic on the beach. A flatter track to Sandfly Bay exists for the less adventurous from Ridge Road, and takes about the same amount of time to walk.
Sandymount Track Network
From here you can reach the Chasm, Lovers Leap and Sandymount Summit. The loop takes about 1 hour and takes in all three walks, while 20 minutes will take you to either the Chasm or Lovers Leap. The Chasm and Lovers Leap are interesting coastal rock formations where you can watch the sea rushing in. They were formed as the sea eroded the soft lower layers of volcanic rock. Sandymount summit provides magnificent panoramic views up and down the coast. These walks are closed for lambing from August until 31 October.
Highcliff Road to Hooper''s Inlet (1 hour)
This is a very steep track to Hooper''s inlet for fit, experienced walkers.
Allans Beach (5 minutes)
This is a short track providing access to Allan''s Beach. Allans Beach is unpopulated and contains rock pools and the odd seal or sea lion lounging on the sand.
Mt Charles (3 hours return)
Mt Charles is the highest point on the peninsula and is over private land so permission must be gained from the landowner to walk here. For the fit, this walk also turns into the Mt Charles Challenge most years around July and can be walked or run.
Okia (1 hour one way)
Reach the interesting Pyramids and Victory Beach.
Quoin Cliff (1 hour 15 minutes return)
Walk to the top of the cliff at 121m above sea level to gain fantastic views of Pipikaretu and Ryans Beaches.
Lime Kilns (5 minutes)
Track to 3 lime kilns used from the 1860''s to 1938.
Camp Road (40 minutes)
Reach Larnach''s Castle and Broad Bay where scenic views of the bay and harbour can be seen.
Walks Around the CatlinsFortrose
(45km from Invercargill) situated at the mouth of the Mataura river; also starting point for the Heritage Trail to Niagara; 19th Century whaling station. Named by a Scottish drover who thought the place to be similar to Fortrose in Scotland. Campsite, petrol, boating and fishing.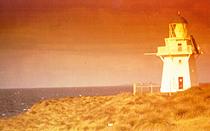 Waipapa Point
Golden beaches and sand dunes; site of New Zealand worst shipping disaster in 1881 - 131 lives lost with the wrecking of SS Tararua. A wooden lighthouse was subsequently built in 1884 and still remains operative (automated in 1976). Some of the victims were buried in the nearby graveyard.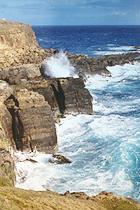 Slope Point
Southern most point of the South Island, 7km further south than Bluff, windswept trees, shop. Stewart Island and Bluff can be seen on a clear day. Access closed during lambing (September - 1st November).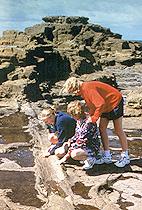 Curio Bay
Site of one of the geological wonders of the world. The sub tropical forest of kauri like trees were buried in a volcanic eruption that covered the forest in ash. Buried under more rock, it later sunk beneath the oceans; on reappearing the petrified forest was revealed. Stumps and logs dating from the Jurassic age 135 to 190 million years ago are clearly defined in the tidal platform; best viewed at low tide. Information is available at the viewing platform, where the best view of the fossilised forest can be gained.
Niagara Falls
Named after the huge falls in North America, these must be the smallest falls you will see! The falls were the endpoint of a river highway as they could not be crossed by boat. Maori called the falls Mangai Piri, which refers to the way lamprey eels (Kana kana) wriggle up the falls using suckers to hang onto the rocks. This is a seasonal event; the eels migrate upstream to breed.

Porpoise Bay
Home to the rare Hector''s dolphin with their distinctive black and white markings. They are only found off the coast of New Zealand and total numbers are calculated as being under four thousand. Porpoise Bay is also a safe swimming spot and the dolphins may even come up to you!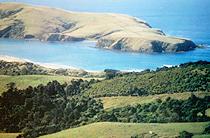 Waikawa
Originally established as a whaling station, followed by gold exploration and latterly a timber milling area. The museum, originally Waikawa school, has an extensive collection covering the local history. Dolphin Information Centre, camp site, fishing and boating. There is a section of the road North East of Niagara which is unsealed. This portion is approximately 23km in length and is regularly maintained however keep left, drive with caution and avoid excessive speed.

Waipohatu Recreation Area
Contains an easily accessible walking track (20 -40 minutes), into the native Waikawa forest. Maori believed there were mythical beings here, ''wild men of the forest''(maeroero).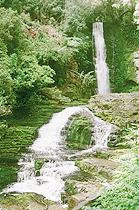 McLean Falls
A 30 minute forest walk featuring tree ferns will lead you to a dramatic waterfall falling over 20 metres into a deep gorge.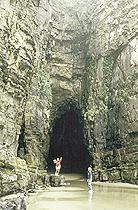 Cathedral Caves
A 30 minute bush and beach walk to impressive caves which rise up over 30 metres (accessible only at low tide). As access is across private Maori land there is a nominal charge.
Lake Wilkie
This walk shows the unique succession of Forest development from lake edge to mature forest. Flowering rata are splendid during summer. 30 minutes return. Wheelchair accessible.

Wilkes Falls
Reached through pine, farmland and native podocarp-broadleaf forest to a vista of 2 30m falls. Well worth the walk, this trip takes 1 hours return.

Purakanui Bay
A remote camping spot, suitable for picnicking, near a native bush reserve and Purakanui River, which is safe for swimming.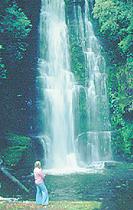 Catlins River Valley Walk
A flexible walking track from Tawanui to The Wisp with Franks Creek and Wallis Stream along the way. Each section can be walked separately while the whole track takes 5 hours one way. The walk is through silver beech forest containing the rare yellowhead (mohua), and there are some fantastic places to fish and picnic.

Papatowai
(45km from Waikawa) situated on the South bank of the Tahakopa estuary, Papatowai offers a wealth of bush and beach walks. Early Maori camp site, Fishing, shop, camping ground and waste dump station. Take a walk to Picnic Point and Kings Rock, where you can view the coast. Also in close proximity are Lenze Reserve, Tautuku and Tahakopa Bays and Matai Falls.
Purakaunui Falls
(11km from Papatowai), this 10 minute walk isthrough native forest from a picnic area to the Catlins best known waterfall. The river cascades 20 meters over 3 tiers offering a spectacular sight. Accessible to wheelchairs.

Old Coach Road and Tahakopa Bay Loop Track
The Tahakopa Bay loop track takes 3 hours return and encompasses the forest and the coast and the Old Coach Road. Alternatively, you can walk from the Old Coach Road down to the beach, which will take about 40 minutes return.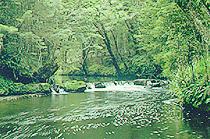 Kaka Point
A sizeable holiday town - excellent surfing beach; fishing, forest and beach walks, accommodation. The Kaka Point bush walk is an easy 30 minute (return) walk that allows you to feel as if you are in a remote area of bush. You will see many vegetation types, such as ferns, perching plants and podocarp species.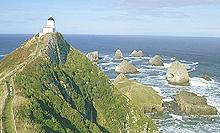 Nugget Point
(8km from Kaka Point) possibly the Catlins most well known sight. A stone lighthouse build in 1869. A reserve managed by the Department of Conservation, New Zealand. An easy walk will take you to the lighthouse and a platform with information panels about the wildlife. Binoculars are essential to view the wildlife on the rocks close up and a camera is also recommended to immortalise the fantastic, rugged landscape. The exposed site contains many hardy plant species usually found in alpine regions. A unique blend of wildlife can be seen here, including sooty shearwaters, spotted shags, red-billed gulls and southern blue penguins. It is also the only place in New Zealand where fur and elephant seals and Hooker Sea Lions coexist. Yellow-eyed penguins can also be seen nearby at Roaring Bay, at dawn or late afternoon. A viewing hide is provided to view the penguins.

Walks Around Southland

Southland is filled with native bush, beaches, lakes, streams and mountains, all of which can be experienced on the many walking tracks in Southland. Below is an overview of the walks available in Southland

Mavora Lakes Region
Tracks following waterways, these walks are picturesque and secluded, taking around 2-3 hours return.

Piano Flat
Tracks in this region range from 30 minutes to 4 hours return and are mainly through native forest. Relics from the goldmining and saw-milling days can be seen.

Glenure Allan Reserve
This community developed reserve contains a loop track through regenerating forest and gives magnificent views over Eastern Southland.

Croydon Bush and Dolamore Park Scenic Reserves
Take a step back in time to see how Southland used to be: covered in native forest, shrubland and grassland. The tracks in this reserve allow you to immerse yourself in this bygone era to experience it for yourself.

Dunsdale Reserve
This reserve protects a wonderful remnant of native forest and is a great place for a picnic. The track to a picturesque waterfall is accessible to wheelchairs.

Forest Hill Scenic Reserve
A fantastic reserve with a diversity of hardwood trees and numerous native birds. Walks take 1-2 hours.

Borland Nature Walk
A great short walk in beech forest with mistletoe.

Monkey Island
An exciting walk, especially if you get caught out by the tide! The top of the island offers great views of Te Waewae Bay and coastline.

Thomson''s Bush
A reserve of native swamp forest in Invercargill.

Sandy Point
An abundance of tracks allow you to explore a number of different ecosystems, from estuaries to forest.

Bluff Hill
Gain some superb views over Foveaux Strait and enjoy walking through bush full of native birds and see some sites of historic importance.

For More Information
Website: www.southland.org.nz

Rakiura National Park (Stewart Island)

Day Walks
Many of Stewart Island''s varied natural wonders can be experienced in a number of day walks ranging from 30 minutes to 7 hours return. See views of Paterson Inlet and Halfmoon Bay, colourful fuschias, breath-taking bays and beaches, historical sites and a huge diversity of wildlife and idyllic streams amid dense, moss-clad bush.

Information

---
Overnight Tramps in Otago/Southland
General Information
During the booked season (late October to late April):
Bookings are essential from late October to late April for the listed tramps, and are best made as early as possible to guarantee a place at each hut on your preferred dates. Bookings can be taken from early July onwards.
Milford Track
Routeburn Track
Kepler Track
If combining tracks, remember that some huts on one or more of the tracks may require advance booking while other huts may not.

All huts require prior booking, which can be arranged at Department of Conservation Visitor Centres. Huts usually contain gas cookers, tables, benches, cold water, solar lighting, heating, mattresses, toilets and wash basins. A hut warden will be resident over the summer months. Camping is permitted on some tracks.

Outside the booked season from May to late October:

Huts have no resident hut wardens, gas cookers, radios or fuel for heating. Great Walks huts are cheaper at this time, currently a small fee per night per person. Sometimes bridges will be removed during winter to avoid damage by avalanches so river crossing needs to be undertaken carefully and may be uncrossable, especially during or after rain. Often many avalanche paths cross the routes at various points so care needs to be taken in winter.

Transport
Transport is available to take you back to your starting point if required but make sure you organise this before you start your tramp.

Guided Walks
Guided walks are offered on some of the tramps detailed below. Taking this option, the tramp is organised for you and some gear is usually supplied if needed. Guides arrange transport, lodgings while on the track (usually in comfortable privately owned lodges), lunch and snacks, a group photo and often a certificate. Guides also offer some cultural, geological and ecological history of the area. Walks can be flexible and you are encouraged to walk at your own pace.

Wildlife and Plant Life
On most tracks you can expect to see and hear many native and exotic birds such as wood pigeons (kereru), kaka, morepork, bellbirds, grey warblers, robins, chaffinches, cuckoos and tuis. On tracks close to the coast, sea birds will abound and you may encounter seals, dolphins and penguins. Blue ducks (whio) may be seen around fast flowing rivers and streams while paradise shelducks can be found on the river flats. Much of the forest on the following tracks is comprised of beech forest (Nothofagus sp.). You are likely to come across red beech (Nothofagus fusca) in the fertile valleys, Mountain beech (Nothofagus solandri var. cliffortioides) at higher elevations and silver beech (Nothofagus menziesii) almost anywhere. Species such as totara (Podocarpus hallii), rimu (Dacrydium cupressinum), kamahi (Weinmannia racemosa), miro (Prumnopitys ferruginea) and many others, also feature in the forest, along with numerous ferns, mosses and lichens. You will also see tussock grassland and alpine herbfields above the bushline.

Overnight Tramps Around The Southern Lakes

Kepler Track(Great Walk), Fiordland National Park
The Kepler Track is a brilliant tramp that has it all. From the forested valley alongside the lake, the tussock grassland above the bushline, a spectacular ridge walk before descending down to the green forest and an amazing waterfall, this tramp is challenging and rewarding to the novice and the experienced. The Europeans farmed this area from 1852. Jack Beer grazed sheep on Mt. Luxmore from the 1890''s.


| | |
| --- | --- |
| Start/Finish: | Lake Te Anau Control Gates (4.6km, 45 minutes from Fiordland National Park Visitor''s Centre; a shuttle bus is available over summer and on request in winter) |
| Duration: | 3-4 days |
| Length: | 60km |
| Fitness: | medium |
| Hut Rate: | Currently a small fee per night per adult(15 years and over) and per night per child(14 years and under) during the booked season |

Prior booking of huts is required during the booked season (late October - late April) for this tramp. Camping at designated sites only.

A Possible Schedule
Day 1: Lake Te Anau Control Gates to Brod Bay (5.6km, 1.5hrs), then to Luxmore Hut (8.2km, 3.5-4.5hrs)
Camping is allowed at Brod Bay and good swimming in Lake Te Anau. Luxmore Hut is above the bushline and in winter there is often a good layer of snow on the ground. This is also often done as a day trip.

Day 2: Luxmore Hut to Iris Burn Hut (14.6km, 5-6hrs)
On the way a side trip can be made to Mt. Luxmore (1472m) and at Iris Burn Hut you can make your way to the Iris Burn Waterfall (20mins).

Day 3: Iris Burn Hut to Moturau Hut (16.2km, 5-6hrs)

Day 4: Moturau Hut to Rainbow Reach (6.0km, 1.5-2hrs), then to the Control Gates (9.5km, 2.5-3.5hrs)
You can exit the track from either Rainbow reach or the Control Gates.

Contact Information

Kepler Challenge and the Luxmore Grunt, Fiordland National Park
This is for the hardened athlete within you! The Kepler Challenge involves a 60km run up into the alpine zone and back along the Kepler Track, while the Luxmore Grunt involves a run from Lake Te Anau Control Gates up to Luxmore Hut and back. The competition occurs around early December every year, and is limited to 350 competitors for the Kepler Challenge and 100 for the Luxmore Grunt. Plenty of spot prizes and cash prizes for placings. Check it out!

Contact Information

Te Anau, Fiordland
There are a number of short day walks in Te Anau for those with limited time. Visit the Wildlife Centre, Ivon Wilson Park, Lake Te Anau Control Gates, Rainbow Reach and Luxmore Hut.

Routeburn Track (Great Walk), Fiordland and Mt Aspiring National Parks
A very popular Great Walk, the Routeburn immerses you in ancient beech forest and grassland with spectacular views of the surrounding mountains, the Hollyford Valley and the Tasman Sea. Early Maori searched this area for greenstone (pounamu) while the early Europeans explored here for a passable route to the West Coast. Greenstone was used by Maori to make tools, weapons and ornaments.


| | |
| --- | --- |
| Start: | Glenorchy near Queenstown or Te Anau |
| Finish: | Te Anau or Glenorchy |
| Duration: | 3 days/2 nights |
| Length: | 33km |
| Fitness: | medium |
| Hut Rate: | A small fee per night per person during the booked season |


A Possible Schedule
Day 1: Routeburn Shelter to Routeburn Flats Hut (6.5km, 2-3hrs), then on to Routeburn Falls Hut (2.3km, 1-1.5hrs)
A side trip can be made to the North Branch of the Routeburn which will give views of Mt Somnus and Mt Nereus (4-5hrs return).

Day 2: Routeburn Falls Hut to MacKenzie Hut (11.3km, 4.5-6hrs)
This is in the sub-alpine zone so is exposed and potentially dangerous. A side trip can be made to Conical Hill (1515m) providing views of the Hollyford Valley, Lake McKerrow and the Tasman Sea (1-2hrs return).

Day 3: MacKenzie Hut to Howden Hut (8.6km, 3-4hrs), then to the Divide (3.4km, 1-1.5hrs)
A side trip can be made to Key Summit to view the Darran mountains and the Hollyford Valley (30 minutes - 1hr return).

Outside the booked season, no fuel for heating is supplied, although at Routeburn Flats and Routeburn Falls huts, coal may be supplied.

Camping is allowed in designated areas on the Routeburn track.

Independent Tramping Contact Information


Guided Walks
Guided options offer a similar 3 day schedule and provide a luxuriant tramping experience with minimal fuss for the clients. Transport, packed lunches, snacks and other essential items such as jackets, sunscreen and repellent are provided. A group photo is presented at the end of the trip. Guides will also offer some background and history of the area.

Guided day trips on the Routeburn are also available for a shorter but no less luxuriant experience. The day trip is approximately 13km return and proceeds from the road end to Routeburn Flats Hut. An additional and rewarding trek to Routeburn falls can be made for the energetic, gaining 300m in height over 3km.

Guided Walks Contact Information


Grand Traverse, Fiordland and Mt Aspiring National Parks

For those adventurers wanting an extended stay in the bush, the Grand Traverse is the trip for you! Combining the Greenstone and Routeburn tracks, this tramp will give you more time to appreciate all that the New Zealand bush and alpine regions has to offer.

| | |
| --- | --- |
| Start: | Glenorchy near Queenstown or Te Anau |
| Finish: | Te Anau or Glenorchy |
| Duration: | 5 days |
| Length: | 73km |

A Possible Schedule
Day 1: Greenstone Car Park to Steele Creek (18km, 5-7hrs)
Start out on the Greenstone Track.

Day 2:Steele Creek to Lake McKellar (14km, 4.5hrs)

Day 3: Lake McKellar to Lake MacKenzie (16km, 5-6hrs)
This is the day you cross over to the Routeburn Track. A side trip may be made to Key Summit to view the amazing scenery (30 minutes -1hr return).

Day 4: Lake MacKenzie to Routeburn Falls (15km, 5-7hrs)
A side trip to Conical Hill (1515m) can be made for some more wonderful views.

Day 5: Routeburns Falls to Routeburn Road End (10km, 3-4hrs)

Guided Walk
There is a guided option for the Grand Traverse offering a 6 day trip with a rest day to explore on the 3rd day. Other perks of the guided option include a boat trip from Glenorchy to the start of the track, luxurious privately owned lodges, and certain gear such as jackets and backpacks, can be provided.

Guided Walk Contact Information
Website: www.ultimatehikes.co.nz


Rees and Dart Track, Mt Aspiring National Park
The Rees and Dart tracks take you through forest and alpine vegetation with riverside sections and mountain views. The Rees and Dart Valleys were also visited by Maori in search of the ubiquitous pounamu (greenstone). Europeans meanwhile with a similar single-mindedness searched the area for gold and good grazing land.


| | |
| --- | --- |
| Start: | Glenorchy |
| Finish: | Paradise Car park |
| Duration: | 4 days |
| Fitness: | medium |


A Possible Schedule starting at the Rees Track and finishing on the Dart Track
Day 1: Muddy Creek Car park to Shelter Rock Hut (6-7hrs)
Grassy flats then through bush.

Day 2: Shelter Rock Hut to Dart hut (5-7hrs)
Start off alongside the river then climb up to Rees Saddle (1447m) and down to Dart Hut. At Dart Hut, day trips can be made to the Dart Glacier, Whitbourn Glacier and Cascade Saddle. From the Cascade Saddle, you can reach Aspiring Hut in the Matukituki Valley, which takes about 8-10hrs.

Day 3: Dart Hut to Daleys Flat Hut (6-8hrs)
Descend through beech forest to a grassy flat before entering the forest again to reach the hut.

Day 4: Daleys Flat Hut to Chinamans road end (4-5hrs) then to Paradise car park (2-2.5hrs)
Climb to Sandy Bluff, then descend to Sandy Flat, where the track alternates between forest and flats until you reach the car park.

Matukituki Valley
The Matukituki Valley is situated approximately 54 km from Wanaka, winding its way up the valley through brown hills, far off snow-capped peaks and a surprising number of cows. Maori hunted a number of native birds here including, kakapo, kereru, kaka, tui and moa (now extinct) and searched for greenstone. Europeans explored the West Matukituki in 1862 and soon after farming began. At the road end is Raspberry Creek carpark where many walks up the Matukituki Valley begin.

West Matukituki Valley

Aspring Hut to Liverpool Bivvy (3-5hrs)
For fit trampers, this walk climbs steeply through bush then onto tussock grassland above the treeline where day trips can be made to explore the area.

Aspring Hut to French Ridge Hut (4hrs)
A similar walk but on the other side of the valley; the hut is just below the summer snowline (1465m). Access to the glaciers around Mt Aspiring can be made from here.

Aspring Hut to Cascade Saddle (4-5hrs)
Another alpine walk, this walk reaches a high point of 1835m just before the saddle (1500m). Some spectacular views can be had of Mt Aspiring from the Saddle, great for photos! This can be done as a day walk or you can continue on to Dart Hut on the Dart Track. This can be done as a guided walk for trampers with some experience, taking you 3-4 days to cross the saddle and emerge out the other side, with a possibility of camping on the saddle itself.

East Matukituki Valley

Walks here range from 2.5 hrs to reach JUNCTION FLAT to 4-6 hrs to reach RUTH FLAT from Junction Flat. Other routes up this valley can be undertaken by experienced trampers.

Independent Walking Information
Guided Walks
Overnight tramps are available for a number of tramps including Cascade Saddle. Often these trips will include a scenic flight or jet boat ride.

Guided Walk Contact Information


Overnight Tramps Around Southland

Greenstone and Caples Track, Fiordland National Park
The open, tussock-dominated Greenstone Valley contrasts nicely with the narrower forested Caples Valley making the combination of these two walks a magnificent tramp full of diversity. Linking the two tramps also makes it a loop track so you conveniently return to where you started. This is an extremely flexible route as you can walk either track independently or combine either track with each other or the Routeburn track.

The Maori used to walk up the Greenstone Valley to reach the rich source of greenstone (pounamu) near Lake Wakatipu. Europeans looked for gold here in the 1860''s and a track was made in 1881. Farming began in the Caples Valley in 1880.


| | |
| --- | --- |
| Start: | Glenorchy near Queenstown or Te Anau |
| Finish: | Te Anau or Glenorchy |
| Duration: | 2-3 days (each track), 4-5 days (linking the two tracks) |
| Length: | 41km (Greenstone) |
| Fitness: | medium |
| Hut Rate: | A small fee per night per person |


A Possible Schedule Linking the Greenstone and Caples Tracks
Day 1: Greenstone Car Park to Mid Caples Hut (2-3hrs) then to Upper Caples Hut (2-3hrs) Valley walk through bush.

Day 2: Upper Caples Hut to McKellar Hut (6-8hrs)
Steady climb to McKellar Saddle in the subalpine zone. Just over the saddle, you can choose to continue round to McKellar Hut (loop track) or go to Howden Hut on the Routeburn Track. Both take about an hour to reach from here.
A more adventurous option for the more experienced tramper, is a trek from Upper Caples hut to Mid Greenstone Hut alongside Steele Creek. This takes from 8-10 hours.

Day 3: McKellar Hut to Mid Greenstone Hut (4-6hrs)
Valley walk through tussock and bush.

Day 4: Mid Greenstone Hut to Sly Burn Hut (1-1.5hrs) then to car park (3-5hrs)
Bush walk with 2 dramatic gorges to see; some good swimming holes along the way.
From Sly Burn Hut you can choose to turn off and trek along the Mavora Walkway to Mavora Lakes (2-3 days). This tramp is through tussock and beech forest and has two huts along the way.

Guided Walk
A guided walk on the Greenstone Track is available offering a 3 day package starting and finishing in Queenstown. Enjoy a scenic coach ride along the Milford Road to the Divide, the magnificent walk on the Greenstone Track, a boat ride at the end of your tramp and a celebratory dinner back in Queenstown with a group photo and certificate. This guided walk is only offered on request.

Guided Walk Contact Information


Hollyford Track, Fiordland National Park
The Hollyford track is known as one of ''the greatest mountains to sea guided walk in the world''. From the heart of New Zealand, the Southern Alps, the Hollyford track takes you through regions of mountains and glaciers, rainforest and waterfalls, rivers and lakes and sand dunes and surf, to the Tasman Sea on the West Coast of New Zealand. Early Maori settled on the coast, collecting seafood from the sea and building canoes from the forest. Europeans brought sealers, whalers and goldminers to the area as well as building a town and trying to clear forest for farming.

This track can be tramped independently or with a guide with the option of a 3 or 4 day schedule. It is a low altitude walk, requiring medium fitness.


| | |
| --- | --- |
| Start/Finish: | Te Anau/Martins Bay |
| Duration: | 3 or 4 days |
| Length: | 56km |
| Fitness: | medium |
| Hut Rate: | A small fee per night per person |

Guided Walks
The Hollyford track boast 3 fantastic variations in which you can explore the Hollyford. A 3 or 4 day trip including a scenic flight and boat cruise, or a 4 day trip allowing you to walk back to the start of the track. Guides provide storage for extra luggage and essential items such as waterproof jackets and backpacks.

Contact Information

Milford Track(Great Walk), Fiordland National Park
Lakes, fiords, rainforest and 9 suspension bridges are just the tip of the iceberg of what you will encounter on the Milford track. Maori used to search this area for greenstone (pounamu) and you may hear kiwis calling at dusk.


| | |
| --- | --- |
| Start: | Te Anau Downs, boat trip required to Glade Wharf |
| Finish: | Sandfly Point, boat trip required to Milford Sound and transport to Te Anau |
| Duration: | 4 days |
| Length: | 53.5km |
| Fitness: | medium |
| Hut Rate: | A small fee per night per person during the booked season |

The Milford track can only be walked in one direction during the booked season (late October - to late April). During the booked season, trampers must spend one night in Clinton, Mintaro and Dumpling Huts so as the huts do not get overcrowded.

A Possible Schedule
Day 1: Glade Wharf to Clinton Hut (5km, 1-1.5hrs)
There are swimming holes near the hut and a side trip around the wetland boardwalk to keep you amused or you can relax and enjoy the atmosphere and scenery around the hut.

Day 2: Clinton Hut to Mintaro Hut (16.5km, 6hrs)

Day 3: Mintaro Hut to Dumpling Hut (14km, 6 hrs)
At Dumpling hut there is a swimming hole and you may see glow worms. A worthwhile side trip can be made to Sutherland Falls (1.5hrs return).

Day 4: Dumpling Hut to Sandfly Point (18km, 5.5-6hrs)
During the booked season, it is advisable to leave between 8 and 9am to coincide with boats leaving for Milford Sound. From Milford Sound, you will need to have transport organised to take you back to Te Anau.

No Camping is allowed on the Milford track.

Independent Tramping Contact Information

Guided Walks
Guided walks on Milford Sound can start and end at either Queenstown or Te Anau for your convenience. The guided experience lasts 5 days and 4 nights with comfortable and luxurious lodges to stay in along the way. The fifth day includes a boat cruise and no walking! Guides will also offer some history of the area - cultural, geological and ecological.

A guided day trip is also available on Milford Sound. This trek begins with a one hour boat cruise then a fantastic walk up the Clinton Valley. The trek is 10-11km long, taking about 5.5hrs. This trip also includes an optional adventurous side trip up to the Glade Burn giving views of Lake Te Anau.

Guided Walks Contact Information

Dusky Track, Fiordland National Park
This track crosses two alpine passes so this is ideal for fit experienced and well prepared trampers. Challenging track often prone to flooding. 8 huts are located on the track.


| | |
| --- | --- |
| Start: | Lake Manapouri near Te Anau, Lake Hauroko near Tuatapere or Dusky Sound |
| Duration: | 4-10 days |
| Fitness: | fit |
| Hut Rate: | A small fee per night per person |


Waitutu/South Coast Track, Fiordland National Park
A coastal track on the south west coast of New Zealand, this is the perfect tramp for those wanting a remote, mud-filled experience! This track will be sure to give you a great sense of achievement. The track follows an old tramline through the bush, sometimes overhanging the path so you feel as though you are walking through a cave. There are 4 wooden viaducts on the way to Wairaurahiri hut and the nearby Waitutu Lodge. At Waitutu Lodge, you will come across Peanut who manages the Lodge and is a very welcoming host, offering hot showers, superb sleeping quarters and a welcome chat. From Wairaurahiri to Waitutu Hut, the track becomes less noticeable but you won''t lose your way if you follow the mud. Waitutu Hut boasts a woodstove with plenty of driftwood available at the beach, 400m away. The beach is a spectacular sight and is ever-changing with the weather. Watch the thunderous surf on a stormy day and see it transform to a calm ripple, as the sun comes out providing picturesque views of the cliffs in the distance.

Humpridge Track, Fiordland National Park


The Tuatapere Hump Ridge Track has all the qualities of a great walk except instead of DOC huts, they have backcountry lodges. The track winds 53 km's (3days/2 nights) over some of New Zealand''s wildest land, leading trampers through Fiordland National Park Podocarp forest. When you get to the top of the Hump Ridge a scenic loop track amidst sandstone tors and mountain tarns offers 360 degree panoramic views of Stewart Island, the Southern Ocean and the wilderness of Southwest Fiordland. Next day continue down the alpine ridge and cross mighty wooden viaducts which form part of the old tramline to historic Port Craig. Here old Wharf pylons are now home to a rare pod of Hectors dolphins. Finally to complete the loop the track winds next to the old telephone wire and along deserted beaches of Te Waewae Bay on the south coast. The very existence of the track is something quite special, a reflection of Kiwis love for tramping and the ''can do'' attitude of a small rural community.
Options include the all inclusive Guided Walk, independent Freedom Plus (with included extras to make your journey more memorable) or a do it yourself freedom walk.
For more information go to www.humpridgetrack.co.nz.



| | |
| --- | --- |
| Start/Finish: | Rarakau Carpark near Tuatapere |
| Duration: | 3 days |
| Length: | 53km |

Contact Information


George Sound Track, Fiordland National Park
Linking a fiord of Lake Te Anau to George Sound this is amazing scenic tramp for fit trampers that crosses the Henry Saddle (823m). 3 huts dissect the track.


| | |
| --- | --- |
| Start/Finish: | Middle fiord of Lake Te Anau, accessed by boat. |
| Duration: | 2-3 days one way |
| Fitness: | fit |
| Hut Rate: | A small fee per night |
Sports Shops

Outside Sports Te Anau
Adventure and Outdoors

Tramping
Fishing
Footwear
Clothing
Gear Hire


Outside Sports Ltd
Where the adventure begins
Queenstown''s finest selection of outdoor apparel, footwear and equipment
Specialists in trekking, camping, alpine and rock climbing, mountain and road bikes and perforance multisport clothing.
Friendly, knowledgable staff that thrive on adventure all year round, giving the best advice.
Stockest of Marmot, Icebreaker, Macpac, Mountain Hardware, MSR, Lowe Alpine, Salomon, Specialazed Jamis and much more.


Hypothermia

REMEMBER HYPOTHERMIA CAN KILL
Even the fit and healthy can succumb to hypothermia. Young and old are at risk. The symptoms can look like simple fatigue, even the victim may not realise the danger they are in. People have died of hypothermia without once complaining of the cold. If one person has symptoms, others in the party may also have hypothermia. It''s best to have four or more people in your party so one can stay with the victim while two go for help.

WHAT IS HYPOTHERMIA?
The human body is a machine which works at 37°C. The outer parts can get much colder but the vital organs in the ''core'' must stay at this constant temperature.

Hypothermia occurs when the body cannot make up for the amount of heat lost. The ''core'' temperature drops to a level where normal brain and muscle function is impaired - usually at or below 35°C. When the body cannot cope, it goes into survival mode, shutting down non-essential functions.

Unless checked, this quickly leads to:
* Loss of co-ordination
* Mental deterioration
* Unconsciousness
* Failure of breathing and circulation
* Death


HYPOTHERMIA OR COLD SHOCK?
Only a low reading thermometer will tell you whether a patient is suffering from hypothermia or cold shock/exhaustion.

If the patient''s temperature is above 35°C, it is unlikely that they have hypothermia. Keep them moving as 70% of heat production is generated by muscle activity.

If the patients temperature is less than 35°C then they should be treated as a hypothermic patient.

Take the temperature in the armpit or under the tongue for at least 3 minutes. If the temperature is less than 35°C take a rectal temperature which will give a better assessment of severity.

WHAT CAUSES HYPOTHERMIA?
This loss of body heat is caused by: WET CLOTHING - ruins insulating properties of clothing WIND - will drag out the heat COLD - remember temperature drops with increased altitude.

Hypothermia is not just caused by environmental factors. Other factors that may hinder the body''s ability to maintain it''s core temperature are: LACK OF FOOD - not enough, not often enough, or the wrong sort FATIGUE - lack of fitness, too hard a trip or too heavy a load INJURY and/or ANXIETY RECENT ILLNESS - especially ''flu''.

Assume any accident victim in the bush and mountains may be, or soon will be suffering from hypothermia.

WHAT TO DO
Signs of hypothermia are a medical emergency. DO NOT ignore them. Immediate action is needed to prevent further heat loss and assist re-warming. Continuing on without addressing the problem can cause rapid onset of hypothermia. YOU MUST:

STOP!
FIND SHELTER - look for or make a shelter (tent, snow cave, branches etc). Get out of the wind and/or rain.
GET VICTIM INTO A SLEEPING BAG - place drink bottles filled with warm water or a companion inside the patient''s sleeping bag to warm the patient. WARM SWEET DRINKS - are valuable as they help to warm from the inside. Do not give liquid to an unconscious person. PLACE - victim in horizontal recovery position. HANDLE - an unconscious victim with extreme care and only move them when absolutely necessary. MONITOR - for changes in level of consciousness and temperature. CHECK AIRWAY - start resuscitation if breathing stops.

NEVER:
Give alcohol
Rub the victim
Use rapid reheating


Note: with warm water and shelter, victims often appear to recover quickly. However, don''t press on as the victim may collapse again. Full recover can take up to two days.

HYPOTHERMIA SYMPTOMS

NORMAL BODY CORE TEMPERATURE

FEEL COLD
Still alert and able to help oneself
Numbness in legs and arms


MILD HYPOTHERMIA
Shivering, clumsy, irrational, confused or
- may appear drunk
- slurred speech
- denies problem

MODERATE HYPOTHERMIA
Muscle stiffness

SEVERE HYPOTHERMIA
Shivering stops
Collapse
Semi-conscious
The victim may remove clothing

CRITICAL HYPOTHERMIA
Unconscious
No response to pain
Slow pulse, breathing that may be difficult to detect
Skin cold
- may be blue/grey in colour but may be pink

CARDIAC ARREST
No obvious pulse or breathing - Pupils dilated - May appear dead HOW TO PREVENT HYPOTHERMIA PREVENTION IS EASIER THAN CURE

GOOD CLOTHING
However fine the weather, be prepared for it to get worse. Have waterproof and windproof clothing - parka and overtrousers. Wear wool or synthetic clothing e.g. polypropylene, fibrepile, polarfleece.

Layers are best as they trap warm air. A woollen or fleece hat and mittens (gloves) are equally important because of the high heat loss from head, neck and extremities. Avoid cotton clothing e.g. jeans.

FOOD
A good breakfast is essential to provide energy for the day. Take a combination of nourishing foods such as cheese, bread, peanut butter, scroggin, muesli bars etc. as well as high energy snacks such as chocolate, barley sugars, snack bars.

PLAN YOUR TRIP
* Check the weather forecast before you go
* Don''t attempt too much
* Allow time for breaks
* Don''t get too hot on the move
* Put on extra clothing during rest breaks


DRINK LIQUIDS
This will help to prevent exhaustion. A thermos of hot liquid is ideal but a fast brew on a primus is also effective.

MODERATE LOADS
Don''t try to carry too heavy a load. This is especially important for young people.

The combination of WET, WIND AND COLD can be lethal. Consider turning back or seeking shelter if you encounter these conditions.

Check all party members regularly for any signs of hypothermia.

For resources and further information contact:
NEW ZEALAND MOUNTAIN SAFETY COUNCIL



Enjoy our beautiful scenery - but please take precautions - prudent advice from New Zealand Police:

- Leave your valuables at home or carry them with you when you leave the car.
- Don''t leave maps, luggage or visitor brochures visible.
- Rather than leave a car for extended periods, have someone drop you off and pick you up.
- Park in public places. Keep your car in plain sight of the road when you can.
- Hide valuables you can''t carry in the boot before you get to your destination, not when you get there.
You never know who is watching. Hiding your valuables under blankets on the back seat does not
work.
- Carry a mobile phone. If you do get broken into or see suspicious behaviour, call the Police.
- For more safety tips check out www.police.govt.nz/safety